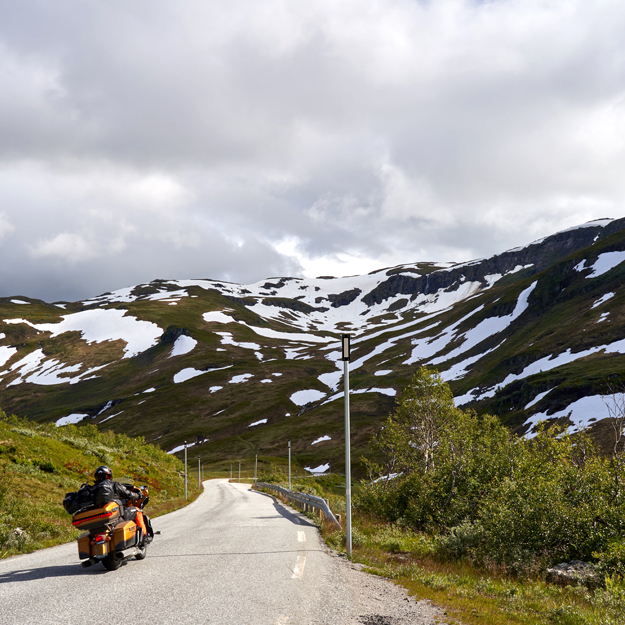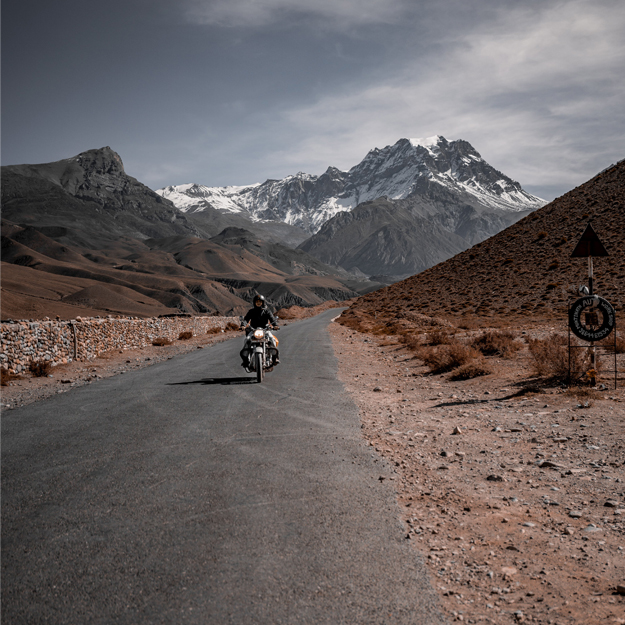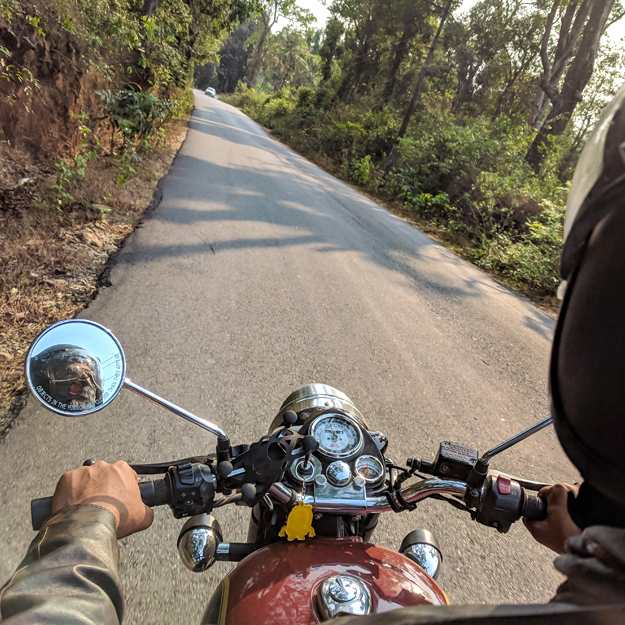 Delhi Shimla Spiti Manali Bike Tour
10 Nights / 11 Days
Delhi – Chandigarh – Shimla – Sarahan – Sangla – Nako – Tabo – Kaza – Manali – Chandigarh – Delhi
10 Nights / 11 Days
Delhi – Chandigarh – Shimla – Sarahan – Sangla – Nako – Tabo – Kaza – Manali – Chandigarh – Delhi
Touring Manali in Himachal Pradesh is not the only thing to be done while planning for a long summer vacation in this state, renowned for popular hill stations. The natural appeal of Nature is bound to enchant tourists and adventurers but it still is a tough decision to go motor biking in Himachal, if not prepared.
The capital city of the state, Shimla is like first and final destination for those who are not really acquainted with the place. Once done with the first meeting, time to know it closer while making newer acquaintances, as in roads, motor bikes and the other places nearby as well as those that are at some distance from Shimla. Motor biking is the best way to do just that.
The journey would take the rider through towns of Sarahan, Sangla Valley and Manali, which are interspersed by lakes like Nako and Chandertaal, mountain passes like Kunzam and Rohtang, monasteries of Tabo and Ki and many other experience worthy minor destinations. For a better understanding of the route, consult the below given itinerary.
Tour Itinerary
Delhi – Chandigarh
In the morning meet Incredible Himachal Holidays expert briefing about the trip and then drive to Chandigarh via Karnal & Ambala. On arrival check in to hotel. In the evening meet our bike expert and take a test ride near by the hotel. Overnight stay in hotel.
Chandigarh to Shimla Distance (120 kms/3-4 hrs)
In the morning after breakfast start your motor bike safari tour to Shimla via Kalka & Solan. On arrival check in to hotel. Overnight stay at the hotel.
Shimla – Sarahan (175 km/5-6 Hrs)
Today is a gentle ride through stunning greenery, smooth roads and mountains and today will give you time to get used to riding your bike and taking in the scenery around you. Sarahan is a charming beautiful hill-village and our stay here is complimented by the surrounding views. On arrival, check in to the hotel.
Sarahan – Sangla (95 km/3 hrs)
In the morning after breakfast visit the famous Bhimakali temple and then ride your bike to the beautiful Sangla valley from the green mountains to the desert-like glimpse of Sangla, you will start to see changes in landscape and the road leads us into Sangla Valley, where the location is stunningly wonderful. In Sangla we will camp for the night and relax.
Sangla – Nako (135 km/5 hrs)
Proceed to Nako. Visit the confluence of Satluj and Spiti rivers at Khab en route. Nako is a beautiful village on the banks of a lake. On arrival, set up camp.
Nako – Tabo (70 km/2½ hrs)
Travel to Tabo and visit the Tabo monastery is more than a thousand years old and is famous for its wall paintings and murals. It is also known as the Ajanta of the Himalayas. Then set up camp near Tabo village.
Tabo – Kaza (81 km/4 hrs)
You've ridden through Kinnaur and Baspa Valley's. Now hit the awesome trail of inspirational Spiti Valley, and the small town of Tabo. The town has not changed for millennia and is where you will find the second most important Buddhist Monastery, only to that of Tholong Gompa in Tibet. The 10th century Tabo Monastery houses some 60 Lamas and contains old scriptures and artifacts. A great place to take time out and relax.
Kaza
Visit the Ki monastery and Kibber village. Overnight in guest house.

Kaza – Manali (200 km/7-8 hrs)
Travel to Manali via Kunzum Pass & Gramphu & Rohtang Pass. The drive provides you with some spectacular views of the rugged Spiti valley, CB ranges and Barashigri Glacier. Overnight in hotel.
Manali – Chandigarh
In the morning after breakfast get ready for the last day riding toward Chandigarh via a beautiful valley of Kullu. Overnight stay at hotel in Chandigarh.
Chandigarh – Delhi
After breakfast transfer to Delhi by car. Trips & Services Ends Here.
(1). Before starting the tour from Manali, clients will have to make a security deposit of Rs. 4,000 per bike. Once the tour comes to an end, the full amount will be returned to the client at the ending point provided there is no damage to the bike.
(2). This is the itinerary for a tour which we run regularly. It can be altered, and we like to discuss plans with clients and can make suggestions about special places to visit depending on our clients' interests, and available time. The itinerary is planned in such a way that you gain altitude gradually , you get a good and proper time to acclimatise properly while travelling through the Central Himalayas . Every day there is enough free time to make walk / or to relax your own so you could experience the people and culture from much close on the tour.
(3). In case you require accompanying tour escort / local guide with you please tell us and we will be happy to arrange local, knowledgeable guide for your tour, as per your choice.
(4). Please do not hesitate to collect any travel information from us, before working a final tour programme for yourself. We would be glad to provide you all the travel information and hotels details etc. at the time of planning your holidays with us, before you book your tour with Incredible Himachal Holidays. Being local, we can provide you with a wonderful private, personalise, tailor-made holiday tour in India at a cheaper cost than the standard package / group holiday that you might find elsewhere. We believe in delivering the service, more than- promised to our clients.
– Accommodation: Hotel at Chandigarh, Shimla, Manali & guest house/tents/home stay at Sarhan, Sangla, Nako, Tabo, Kaza on twin sharing basis.
– Transport: From Delhi – Chandigarh & back by AC Toyota Innova. Also we will take support vehicle throughout the tour.
– Royal Enfield 350 cc/500 cc. The fuel will be fulled by the rider.
– Meal: At Chandigarh, Shimla, Keylong & Manali only breakfast will serve and rest of the places all meal will be provided. Meal will be mix of Indian, Chinese & continental. Cook will accompany the group.
– Mechanics: One expert mechanic will accompany the group with helper.
– Repair and Backup: For on the spot repairs our mechanic will carry necessary spare parts and tools.
– Professional Escort from Delhi.
– Truck who will carry the bike back to Chandigarh.
– Support vehicle throughout the trip.
– Restricted area permit fees.
– T-Shirt & Cap for each biker with name of expedition by Incredible Himachal Holidays.
– Air fare.
– Accommodation at Delhi.
– Any charges for carrying still/video cameras etc.
– Alcohol, soft drinks, bottled water, beverages, etc.
– Personal expenses like tips, telephone calls, laundry, etc.
– Any meals/services not mentioned above .
– Any costs arising out of unforeseen circumstances like landslides, road blocks, bad weather, etc
– Travel insurance.