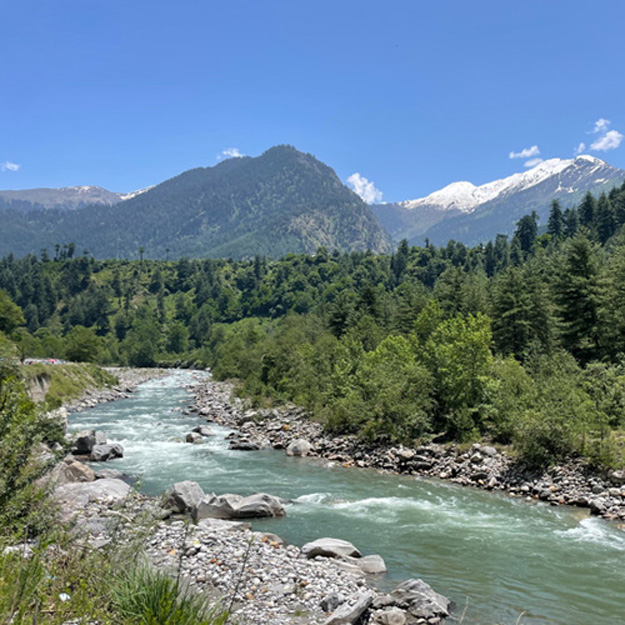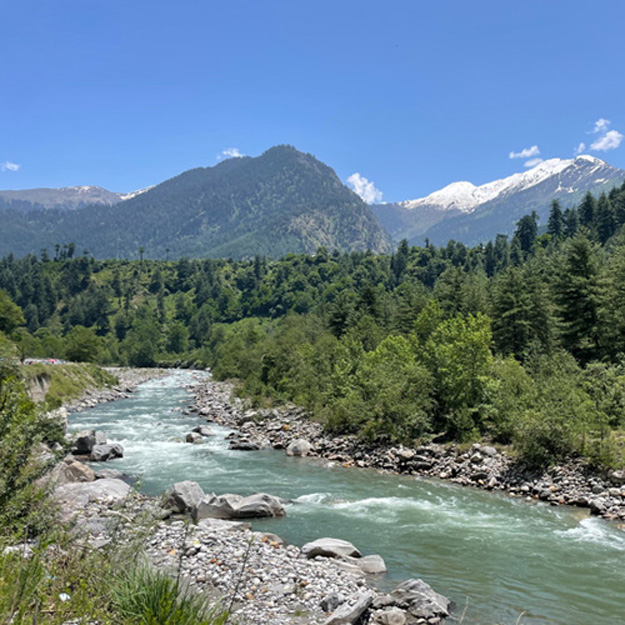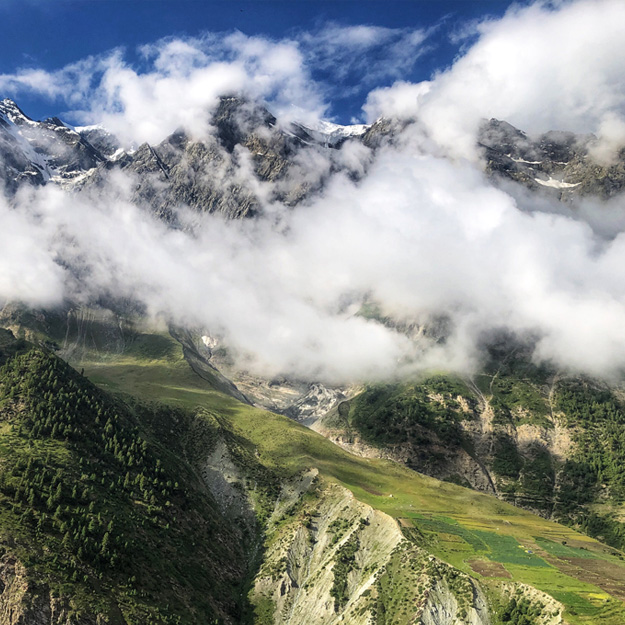 2 Nights Adventure Trip from Delhi to Kasol and Kheerganga
02 Nights / 03 Days
Delhi – Kasol – Kheer Ganga Trek – To Kasol And Journey Back To Delhi
02 Nights / 03 Days
Delhi – Kasol – Kheer Ganga Trek – To Kasol And Journey Back To Delhi
Parvati Valley in Himachal is one of the most beautiful destinations in the world. Amidst these hills lies the charming village of Kasol. It is situated in Parvati Valley on the banks of river Parvati. The snow clad Himalayas to verdant landscape and clear blue sky adds a touch of mystery to the place. With pleasant climate all around the year and low population density, this wonderful place is all set to give you an unforgettable experience. Kasol is ideal for a vacation if you want to chill in the lap of nature. This remote village is a blessing for adventure buffs, trekkers and backpackers. Imagine after trekking for 4-5 hours in the rough Himalayas you are welcomed by the natural hot water spring on the top of the mountain surrounded by many more snow capped mountains thickly covered by clouds. Yes, this is how the final destination of Kheer Ganga welcomes you after an adventurous trek. Come join us in exploring this paradise in the Himalayas.
Famous For : – A destination bestowed with all of nature's blessings, Kasol is known for its Israeli influence, Parvati River, trekking base-camp and Malana. A tourist hub with blend of Israeli culture with signs of various cafes and restaurants in Hebrew serving great food, of cuisines from around the world.
Places To Visit In Kasol
Sight Seeing : Parvati River, Malana, KheerGanga Peak, Hot water Spring at Kasol.
Religious Places : Manikaran Sahib Gurudwara, Raghunath Mandir.
Best Places to eat at : Evergreen Cafe, Shambhu Momo Corner, Jim Morrison Cafe, Stone Garden Cafe.
Best Shopping Places : The Local Flea Market is the best place to fill up your shopping bags. The best buys are funky T-shirts and cool bags.
Things To Do In Kasol
Adventure Activities : Kheerganga Trek, Night walks in Chalal, Sarr Pass Trek, Tosh Trek, Walks in Malana.
Local Experience : Trance Parties, The local barber shops.
Nearby Places around Kasol : Manali (75 km) Kullu (37km).
Tour Itinerary
Start Journey From Delhi
This option is available for people who are buying the trip from Delhi. We will board the Bus from Delhi to Bhuntar in the evening.Kasol is off-road from the main highway & the bus will drop you to Bhuntar from where you need to take another local transport to reach Kasol.
Location : Kasol
Upon arrival at Bhuntar, take a local transport either taxi/bus to reach Kasol which is just 22 kms away (This travel from Bhuntar to Kasol is not included in the trip and has to be managed by the guests on their own). At Kasol, check-into our stay and get settled in the well designed and spacious rooms. During the evening, our local experts take you around Kasol and nearby villages like Chalal & Manikaran. Bonfire can be arranged at the hostel's camping premises, if required.
Kheer Ganga Trek
Post breakfast, get ready to traverse through the dense forest for 8-9 km for an unforgettable trek to Kheerganga. Jungle trekking is the best way to get close to the nature. Our guide will give you wilderness survival tutorials on the way to get hold of your survival skills. Kheerganga, located at an height of 9712 ft., is the most beautiful of all amongst the Parvati valley. After the group reaches Kheerganga around 4 PM, welcome snacks are served. Get relaxed, watch the sunset and wash your tiredness away in the mystical hot springs bath admiring the snow-clad peaks at an altitude of 13,051 feet. Fire up the evenings with dinner around a bonfire and experience the perfect stargazing in the clear skies all night long.
Return Trip To Kasol And Journey Back To Delhi
A delicious breakfast is served at 8 AM post which the group gets 2 hours to spend in Kheerganga exploring the village. Around 10 AM, the group checks out from Kheerganga campsite to descend back to Barsheni. Take a local transport either taxi/bus to reach Bhuntar (This travel is not included in the trip and has to be managed by the guests on their own). Upon arrival at Bhuntar, our bus will bring you back to Delhi.
Things to carry for The Kheerganga Trek
– Valid Id Proof, Invoice, Waterproof Trekking shoes, Camera.
– Cancellations made 7 days before the start date of the trip will attract 50% of booking value as cancellation fees.
– Cancellations made within 3 days before the start date of the trip will attract 100% of booking value cancellation fees.
– In the case of unforeseen weather conditions or government restrictions, certain activities may be Cancelled and in such cases, we will try our best to provide an alternate feasible activity. However, no refund will be provided for the same.
(1). This is the itinerary for a tour which we run regularly. It can be altered, and we like to discuss plans with clients and can make suggestions about special places to visit depending on our clients' interests, and available time. The itinerary is planned in such a way that you gain altitude gradually , you get a good and proper time to acclimatise properly while travelling through the Central Himalayas . Every day there is enough free time to make walk / or to relax your own so you could experience the people and culture from much close on the tour.
(2). In case you require accompanying tour escort / local guide with you please tell us and we will be happy to arrange local, knowledgeable guide for your tour, as per your choice.
(3). Please do not hesitate to collect any travel information from us, before working a final tour programme for yourself. We would be glad to provide you all the travel information and hotels details etc. at the time of planning your holidays with us, before you book your tour with Incredible Himachal Holidays. Being local, we can provide you with a wonderful private, personalise, tailor-made holiday tour in India at a cheaper cost than the standard package / group holiday that you might find elsewhere. We believe in delivering the service, more than- promised to our clients.
– Bus Transfers: AC Volvo 2/2 (Delhi – Bhuntar – Delhi)
– Stay: Dormitory Beds/ Triple sharing private rooms (attached W/c) in Kasol & campsite/ homestays in Kheerganga
– Food: Day 1: No meals | Day 2: B/f, Snacks, Dinner | Day 3: B/f
– Guide Fees, Forest permits & fees are included.
– First Aid, Emergency assistance can be provided, if required.
– Sleeping bag, tents and all the trekking equipments shall be provided, without any extra fee.
– Unforeseen handling costs due to sudden changes in weather, natural calamity etc. isn't included in the package.
– Local Transfers: (Bhuntar – Kasol – Bhuntar & Kasol – Barsheni – Kasol ) isn't included in the package.
– Potter for personal luggage handling can be made available at INR 900 per day/per person