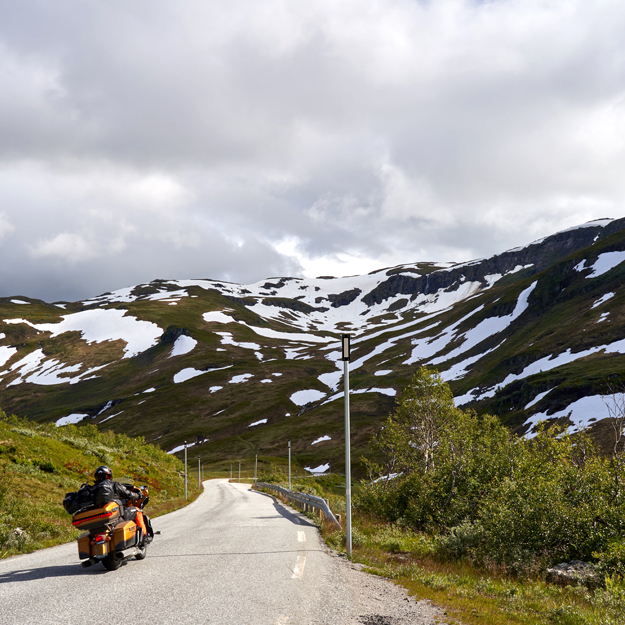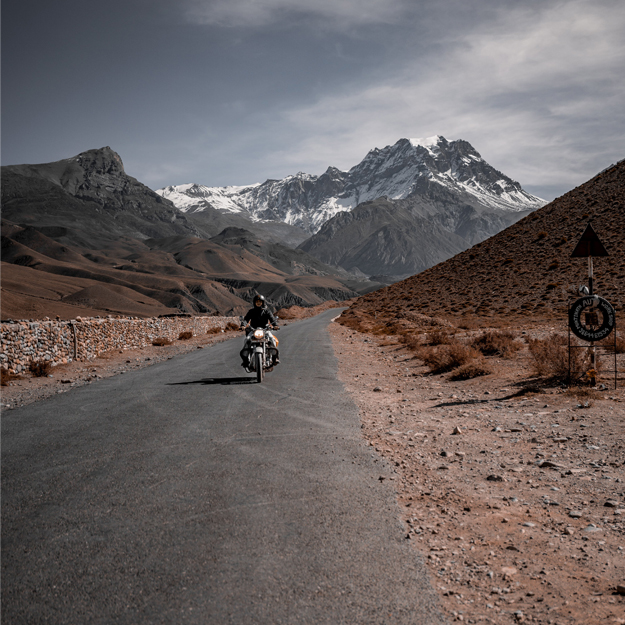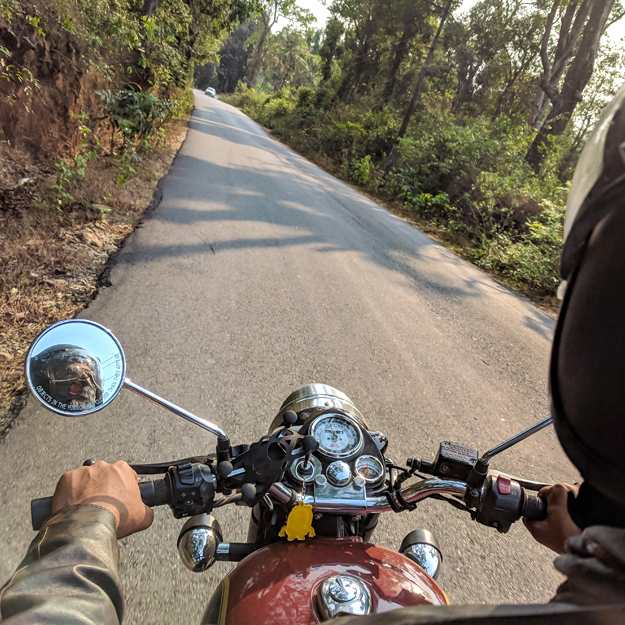 Shimla Spiti Leh Motor Bike Tours
12 Nights / 13 Days
Delhi – Shimla – Sarahan – Sangla – Kalpa – Tabo – Losa – Jispa – Sarchu – Leh – Khardung La – Leh – Delhi
12 Nights / 13 Days
Delhi – Shimla – Sarahan – Sangla – Kalpa – Tabo – Losa – Jispa – Sarchu – Leh – Khardung La – Leh – Delhi
Adventure gets redefined every time there is a conscious nagging of accepting challenge. Motor biking in testing weather condition and exhausting road is one of those ways, tickling sensation of adventure is responded to, and what route could be better than Shimla-Spiti-Leh witnessing the changing panoramas from Himachal to Ladakh.
Villages and towns of Himachal Pradesh to the region of Ladakh look different when it is leisure with thrill. The valleys appear more admirable, the locals more friendly, the colours of life brighter and quite vistas more appealing.
Starting the motor biking from Delhi to Shimla early morning may seem like any other journey but not for long as the view along the road finally start revealing themselves in full with the day light. With regular interval of rest in camps and rest houses, the stoppages of the journey mainly include villages of Kinnaur districts, few human settlements in Spiti Valley, followed by other sketches that nature, people and their religion have made in Sangla, Tabo, Losar, Sarchu, and finally Leh. These are never to be seen again once out of this place. Plan with the following itinerary in mind.
Tour Itinerary
Arrival Delhi
Up on arrival at Delhi airport met our representative and transfer to a hotel. Rest of the day at leisure. Overnight stay will be in the hotel at Delhi.
Shimla – Delhi (360 kms/8 hrs)
Start early in the morning to avoid city traffic on your drive to Shimla. En-route, stop for lunch at picturesque Parwanoo. Continue your drive to Shimla. On arrival check in at hotel. overnight stay at hotel.
Shimla – Sarahan (185 Kms/7-8 hrs)
After breakfast, drive to Sarahan. The former Capital of Bushahar Empire, Sarahan is a wonderful little village located amidst lush green and beautiful surroundings of Deodar forests. Visit the historical Bhimakali temple, having an unusual architecture and wealth of carvings, a fine example of Hindu-Buddhist architecture. Deep down in the alley flows the river Sutlej and across lies the scenic snow-clad Shrikhand Peak. Overnight stay at Sarahan.
Sarahan – Sangla (92 Kms/4 – 5 hrs)
After breakfast, we move on from Sarahan, delving deeper into the breathtaking, secret world of the Kinnaur and Spiti Valleys. Ride on to Wangtu and further to Karchham and move down to right to Sangla, a picturesque little village with a small population, famous for its trout fishing possibilities. Situated on the slope with houses rising one above the other, and the Kinner-Kailash Peak towering behind, Sangla is also known for the impressive and historical Kamru Fort, which has now been dedicated to the Kamakshi Temple.
Sangla – Kalpa (57 Kms/3 hrs)
After breakfast, at leisure backtrack to Karchham and drive to Kalpa. En-route cross Powari and proceed to Recong Peo (7 Km). Both places have the most stupendous settings in all of Himachal Pradesh. Enjoy a spectacular view of the mighty Kinnaur Kailash Mountain Ranges from anywhere up the road. Located at an altitude of 2,670m, Kalpa is also famous for good quality Chilgoza. Dinner and overnight in tents.
Kalpa – Tabo (163 Kms/ 7 – 8 hrs)
After an early morning breakfast, start riding on Sutlej Bed and in the surrounding lush green forest. Drive 18 km from Powari to Ribba. This region is also known for the famous Kinnaur apples, grapes and the alcohol distilled from grapes. There are a number of bridges you will cross en-route. Then drive to Ribba to Puh (40Km) while riding on the paved road on the Bank of the Sutlej River, known as the Indo-Tibetan road. In northwest direction one can distinctly see some snow-covered peaks in the Pin Valley Range (subject to clear weather). After crossing the cantonment of the Puh, come out of the Gorge of Khab (another 11 Km). Khab is the point where two rivers, Tabo and Sutlej merge, producing the resounding sound. Navigate the hairpin bends and ride ahead for 24 km on paved road till Yangthang. Descend to Yangthang, considered as the ideal entry point in the Land of Lamas. From Yangthang the road condition also deteriorates to unpaved in between some loose mud and mountain river crossing till Chango (3,658 m). From Chango drive another 8 Km in arid landscape till Sumdo. Another 9 Km drive in the plateau area, takes you to Hoorling and from here 24 Km ride ends up in Tabo. Visit Tabo Gompa (temple). Founded in 996 AD, the Gompa has some of the best-preserved examples of Indo-Tibetan art remaining in the world. Dinner and overnight in the tent.
Tabo – Losar (171 Km)
In the morning, leave for Kaza (3,600 meters), at about 47 Km from Tabo and then to Kibber, 18Km up. Visit the scenic Kibber Village (4,025m) and the famous Ki-Monastery (4,116m). Though the distance to Ki is not much, but you have to ascend a height of more than 1,000 M on a difficult road. Ki is the oldest and largest Gompa in Spiti having a spectacular location. Later, ride down to Rangrik and then into the barren landscape in a gorge for next 30 Km to Hanse (3,950m) clinging to the road cliffs and the unpaved stretch of roads with not many villages falling en-route. Then, ride further 20Km to arrive at Losar (4,079m). Dinner and overnight camping at Losar.
Losar – Jispa (174Km)
Enjoy an early morning ride up to Kunzum Pass (4,551 m) & then proceed to visit the picturesquely beautiful Chandertaal Lake (4,270m), about 12 Km from the Pass. Spend some time and enjoy the spectacular beauty of the surroundings around the lake. Thereafter, drive to Batal- Chatru – Gramphoo and then to Tandi. Have your lunch en-route. Later, proceed to Keylong. Dinner and overnight in the hotel at Keylong.
Ride – Sarchu (104 Km)
After breakfast, drive to Jispa-Darcha and proceed through the hairpin bends entering into the Higher Himalayan Range. After reaching the top of the gorge, drive straight to Himmatnagar Cantonment. It is again an unpaved stretch of the Patseo & ZinZing Bar hairpins bends, as you get closer to Suraj Tal. Then, proceed to Baralacha La (4,883m). Later, descend down to arrive at Bharatpur. Enjoy your packed lunch and enter to the gorge of Sarchu. Come out of the gorge after crossing the bridge and enter the Sarchu Plateau (4,100m). Here you can enjoy a cool and refreshing breeze, soothing your body and nerves. Dinner and overnight in tents at Sarchu.
Sarchu – Leh (246 Km)
Today, you will enjoy a long but pleasurable ride. Ride in the plateau area for next 30 Km with a good speed but be cautious of the bad patches en-route. Ascend the road bends of Gata Loops early in the morning to beat the uphill traffic and scale the height of Takh (3,950m) and then it is a downhill. Cross over the low-lying road in the stream and ascend uphill again to the height of Lachung La Pass (5,060m) about 54 km from Sarchu. Then, drive downhill for 25 km till you hit the base of bridge before Pang (4,630m). Ensure to cross over Pang before 12.00 noon as traffic is not allowed in afternoon. Later, cross Tanglang La (75km from Pang) and another 30 km to Rumtse. Thereafter, proceed further to Leh, the saddle of Buddhist Culture. Dinner and overnight in the hotel in Leh.
Leh
Day at leisure for own personal activities. Bike Maintenance. Leave the bike with the mechanic and explore the delights of Leh on your own. Visit the 16th Leh Century Palace (once the seat of power), the splendid World Peace Pagoda and the busy marketplace.
Leh – Khardung La – Leh
In the morning ride to the world's highest motorable road, Khardung La. At 18,380 feet (5,602m), the ride will take a few hours of climbing out of Leh. After exploring the area back to Leh. Dinner and overnight stay at hotel.
Manali – Delhi for departure
On the last day of the tour, the morning is at leisure. You can relax in your room. Afternoon departure by Volvo to Delhi.
(1). Before starting the tour from Manali, clients will have to make a security deposit of Rs. 4,000 per bike. Once the tour comes to an end, the full amount will be returned to the client at the ending point provided there is no damage to the bike.
(2). This is the itinerary for a tour which we run regularly. It can be altered, and we like to discuss plans with clients and can make suggestions about special places to visit depending on our clients' interests, and available time. The itinerary is planned in such a way that you gain altitude gradually , you get a good and proper time to acclimatise properly while travelling through the Central Himalayas . Every day there is enough free time to make walk / or to relax your own so you could experience the people and culture from much close on the tour.
(3). In case you require accompanying tour escort / local guide with you please tell us and we will be happy to arrange local, knowledgeable guide for your tour, as per your choice.
(4). Please do not hesitate to collect any travel information from us, before working a final tour programme for yourself. We would be glad to provide you all the travel information and hotels details etc. at the time of planning your holidays with us, before you book your tour with Incredible Himachal Holidays. Being local, we can provide you with a wonderful private, personalise, tailor-made holiday tour in India at a cheaper cost than the standard package / group holiday that you might find elsewhere. We believe in delivering the service, more than- promised to our clients.