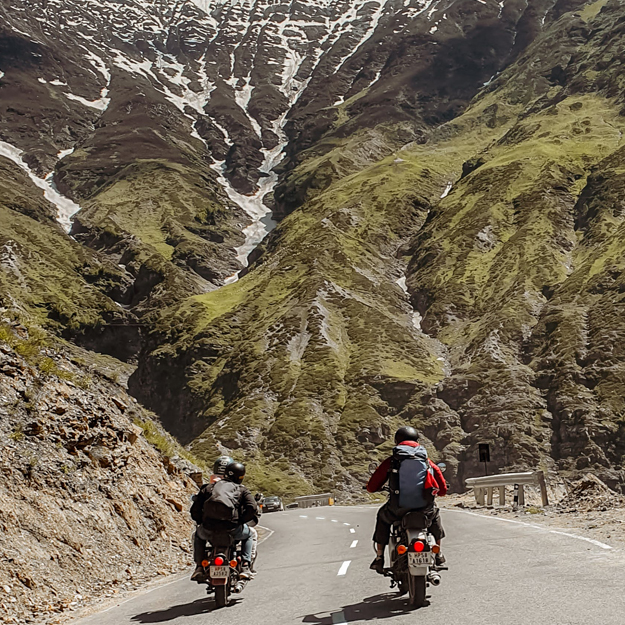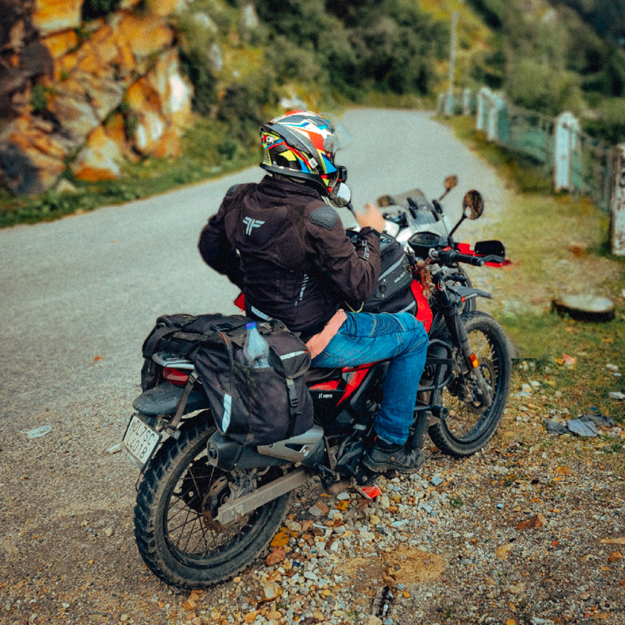 Manali To Leh Bike Groups Tour From Delhi
11 Nights / 12 Days
Manali to Jispa – Sarchu to Leh – Khardungla Pass – Nubra Valley – Pangong Tso to Leh
11 Nights / 12 Days
Manali to Jispa – Sarchu to Leh – Khardungla Pass – Nubra Valley – Pangong Tso to Leh
About the Destination: Motorcycle Safari is one kind of adventurous sport of riding to the limits and beyond.
Bestowed with natural formations and heaven like ambience the regions of Ladakh and Leh are beautified with immense natural diversities. On the other hand, Kashmir is a land that is utterly beautiful and has inspired many love affairs and art pieces! Decorating the crown of the subcontinent of India, literally, the landscapes of this area are richly embellished with sights of every kind imaginable. The Northern frontier of India has always been home to a rich and prosperous culture. Navigate the toughest passes on a trip of Manali to Leh on the bike, the empty stretches of highways and rock-strewn pathways in the mountains all of which reward you with gorgeous vistas that make the ride worthwhile!
About the trip
The trip starts with you boarding your bus from Delhi for Manali, where you will meet your bikes for the Manali to Leh bike trip. You will take a test ride to Solang valley and will leave with your bikes for Leh the very next day. Crossing Rohtang pass, Jispa and Sarchu, you will arrive in Leh You will pay visits to the Sham Valley, Nubra Valley and Pangong Tso, before returning to Manali via Upshi and Jispa These 12 days will leave you in awe of the beauty of this place and will keep you coming back for more.
Tour Itinerary
Overnight From Delhi to Manali
Arrive at your boarding point for the overnight bus from Delhi to Manali
Manali arrival | Solang Valley
Get transferred to the hotel and rest for a while
In the afternoon you will be introduced to the bikes and you can take a test ride by visiting the famous Solang Valley
You will get your orientation, and then, can enjoy activities like paragliding, quad biking, and ropeways
On your way back, visit the Vashisht temple famous for natural hot springs
The evening is free for you to explore Manali's markets
Dinner and overnight stay in Hotel
Riding from Manali to Jispa
After breakfast in the morning, check your bikes and start riding towards the beautiful Rohtang Pass
After passing Gulaba, Marhi, Khoksar, you will cross into the untouched Lahaul Valley
Keep riding to your next stopover at Jispa
Gaze at stars in the night with your dinner
Overnight at Jispa
Jispa to Sarchu
Wake up and have your breakfast.
Do a bike check before beginning the ride for the day
As you ride towards Sarchu, your next stop, you will pass many picturesque places like Darcha, Baralacha La, and Zing Zing bar
You will reach Sarchu late in the evening
Dinner and overnight at Sarchu
Riding to Leh
After breakfast, do a bike check and begin the ride towards Leh you will see many transformations happening in the landscape around you
Stop at Nakee La, Lachung La, and Gata loops for some of the best pictures
After crossing Pang and Rumtse, we will finally arrive in Leh by the evening
Check in to the hotel and spend the evening at your leisure
Dinner and overnight in Leh
Sham Valley Excursion
After breakfast this morning, you will check the bikes before heading to the famous Sham Valley near Leh This excursion will cover spots like Ladakh Hall of Fame, Gurudwara Pathar Sahib and Confluence of Indus and Zanskar
You will also be riding up to the Magnetic Hill, and witness vehicles moving forward even when in neutral gear
Overnight stay and dinner in Leh
Riding to Nubra Valley via Khardung La
Get an early breakfast and get briefed about the day's ride to Nubra Valley
Do a thorough bike check as you will be riding on the world's highest civilian motorable pass, Khardung La
You will ride up to Diskit Monastery for an unending view of the Nubra Valley
You will then head to the White Sand Dunes of Hundar, and get a double-humped camel ride
Dinner and discussion session at the camps
Overnight in Nubra camps
Riding to Pangong along Shyok
After a breakfast in the morning, the tour leader will brief about the day's ride
Post this and a bike check, you will start riding along the river Shyok
You will reach Pangong in the evening and check into your camps
Dinner and Overnight at Pangong Camps
Pangong to Leh via Chang La Pass
After breakfast, you will take some time to admire the beauty of the lake, before doing a bike check for the ride After taking pictures of the majestic lake, you will start riding to Leh via Chang La Pass. Falling en route is the beautiful Thiksey Gompa, situated 19 Kms from Leh and spectacularly placed atop a mountain in the middle of Thiksey village. Thiksey is one of the largest and architecturally most impressive Gompas in Ladakh. There are several temples in this Gompa, containing images, stupas and wall paintings of Buddha, religious texts and the largest statue of Buddha in Ladakh is also installed here. Also, visit the Shey Palace and Gompa, situated on a hillock 15 Kms upstream from Leh, it was once the residence of the royal family and the summer capital of Ladakh. A 7.5 mts high copper statue of Shakyamuni Buddha, plated with gold is installed here. The palace offers one of the most panoramic views of the surrounding villages, grasslands and river Indus.
Stop at one of the highest cafes on the Chang La top.
Reaching, dinner and overnight in Leh.
Riding to Sarchu
After breakfast in the morning and a bike check, you will start the ride to Sarchu from Leh
After crossing Nakeela River, Lachung La and Gata loops, you will arrive in Sarchu in the late afternoon
You will enjoy an amazing stargazing session at Sarchu
Dinner and overnight in camps
Going back to Manali
You will start riding back to Manali after your breakfast
You reach Manali in the afternoon and hand over the bikes to our representative
Spend the evening at your leisure before getting transferred to the bus boarding point
Overnight in bus
Arrival in Delhi
In the morning, you will arrive in Delhi
– Accommodation in double bedded room in hotels/camps/guest house. Check in/ out time is 12 noon.
– Meals Starts from Dinner on day 02 on Arriving in Manali till breakfast on departure from Manali on day 11 (Breakfast and Dinner only).
– Biking – Sightseeing
– Transportation from Delhi to Manali and Manali to Delhi in a Volvo Bus.
– 350cc Royal Enfield motorbike with fuel from day 02 to day 11
– License, Medical Insurance and Travel Insurance
– Saddle bags/ Magnetic tank bag/ Luggage carrier
– Comfortable clothes: tracks, raincoats, tee-shirts
– Jackets and pullovers
– Flashlight with extra batteries
– Personal medication
– Riding Shoes, a pair of slippers for the night, extra pair of socks
– Sunglasses, caps or hats, sunscreen lotion and insect repellents
– Personal toiletries
– Water bottles, backpack with plastic lining, daypack
– The advisable maximum size of baggage should not exceed 60 liters. Remember that you have to carry the luggage to the backup vehicle and into the accommodation.
– Any damage caused to the bike because of mishandling by the rider, the cost for it will be borne by the traveler In case of changes in permit costs, the difference for the same will be payable by the traveler at the beginning of the trip.
– While riding, tuck-in your tracks into the socks to avoid hindrance.
– Gst is applicable on the above tour cost.
– All entry tickets for stupas, monasteries, sightseeing, state and entry fees are excluded from the package cost. Lunch throughout the tour & meals during the Bus journey will be on the traveler Traveler takes care of all the International / Domestic airfare, visa fees, airport tax or any kind of insurance cover
– Items of personal nature like drinks, laundry, telephone calls, tips, camera fees etc& any other item not specifically mentioned in the inclusion labels
– In case of extension of a tour is required, the clients can directly contact Incredible Himachal Holidays
– Person bringing his own bike has to report at Manali.
– Wear riding shoes till your ankles
– Climatic conditions in the high altitudes contrast from the plains take adequate time to get acclimatized to high altitudes.
– While riding, tuck-in your tracks into the socks to avoid hindrance.
– Wear double layered socks to avoid dust, mud, and infections during the trek.
– Do not wear tight-fitted clothes as they might hinder with your movement during the ride.
– Do not carry valuables like jewelry or expensive electronics.
– Wear proper protective headgear that fits perfectly along with eyewear and mouth protection wear to avoid the glare of the sun, dust, and wind.
– Consult with a physician if you are fit to undertake the long bike ride.
– The ride takes place through eco-friendly zone; do not litter the local sites or campsites.
– Consumption of alcohol/drugs and smoking during the bike ride is strictly prohibited
– Usages of plastic bags are strictly prohibited during the ride.
– Any damage to bike during the tour would be payable by guest directly.
– Please bring your own USB Pendrive of 32 GB for videos and images.
– Children are not allowed on bike trips, only people above the age of 18 and holders of proper licenses
– If cancellations are made 30 days before the start date of the trip, 25% of total tour cost will be charged as cancellation fees.
– If cancellations are made 15-30 days before the start date of the trip, 50% of total tour cost will be charged as cancellation fees.
– If cancellations are made within 0-15 days before the start date of the trip, 100% of total tour cost will be charged as cancellation fees.
– In case of unforeseen weather conditions or government restrictions, certain activities may be cancelled and in such cases the operator will try his best to provide an alternate feasible activity. However no refund will be provided for the same.
– The applicable refund amount will be processed within 10 business days.
– The customer receives a confirmation voucher via email within 24 hours of successful booking In case the preferred slots are unavailable, an alternate schedule of the customer's preference will be arranged and a new confirmation voucher will be sent via email.
– Alternatively, the customer may choose to cancel their booking and a full refund will be processed.
(1). Note: The helmet, gloves and other personal equipments may kindly bring your own.
(2). Before starting the tour from Manali, clients will have to make a security deposit of Rs. 4,000 per bike. Once the tour comes to an end, the full amount will be returned to the client at the ending point provided there is no damage to the bike.
(3). This is the itinerary for a tour which we run regularly. It can be altered, and we like to discuss plans with clients and can make suggestions about special places to visit depending on our clients' interests, and available time. The itinerary is planned in such a way that you gain altitude gradually , you get a good and proper time to acclimatise properly while travelling through the Central Himalayas . Every day there is enough free time to make walk / or to relax your own so you could experience the people and culture from much close on the tour.
(4). In case you require accompanying tour escort / local guide with you please tell us and we will be happy to arrange local, knowledgeable guide for your tour, as per your choice.
(5). Please do not hesitate to collect any travel information from us, before working a final tour programme for yourself. We would be glad to provide you all the travel information and hotels details etc. at the time of planning your holidays with us, before you book your tour with Incredible Himachal Holidays. Being local, we can provide you with a wonderful private, personalise, tailor-made holiday tour in India at a cheaper cost than the standard package / group holiday that you might find elsewhere. We believe in delivering the service, more than- promised to our clients.
– Standard size Helmet for rider and pillion ride (Used Helmet not new) from day 02 to day 11.
– Tour Leader on his own bike from day 02 to day 11.
– Non AC sharing car for Pangong excursion on day 07.
– One Motorbike Mechanic from day 02 to day 11.
– Environmental & Permit fee for Pangong and Nubra.
– AC Semi sleeper tickets from Delhi to Manali and return.Depending on the variant selected.
– 01 backup vehicle to carry luggage and mechanic from day 02 to day 11..
– First aid box and oxygen cylinder.
– 1 Helmet Action Camera for Road Captain to shoot video and pictures of the entire tour.
– Spares parts change in Bike during the tour. –Front tube/ Rear tube/Spark plug/Clutch and Brake Wire/Clutch and Disc brake pads/ Engine oil/Clutch Plate.
– Participation certificate.
– Bonfire with music whenever possible.
– Hydration packs to assist you to prevent mountain sickness and ride safely.