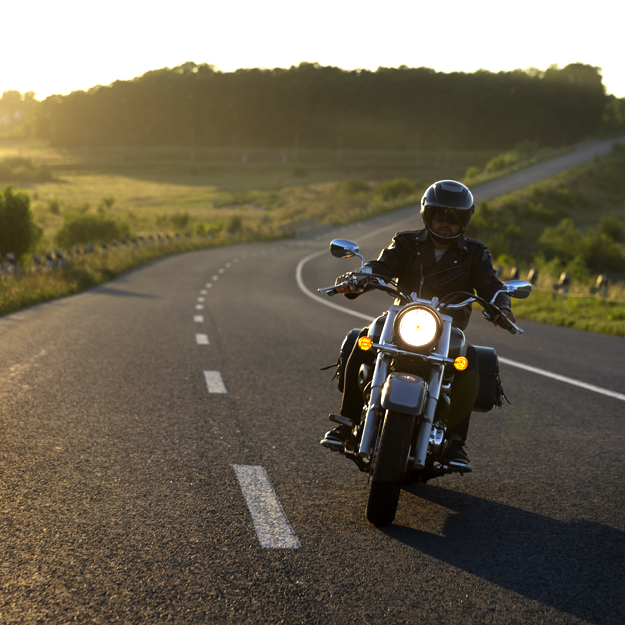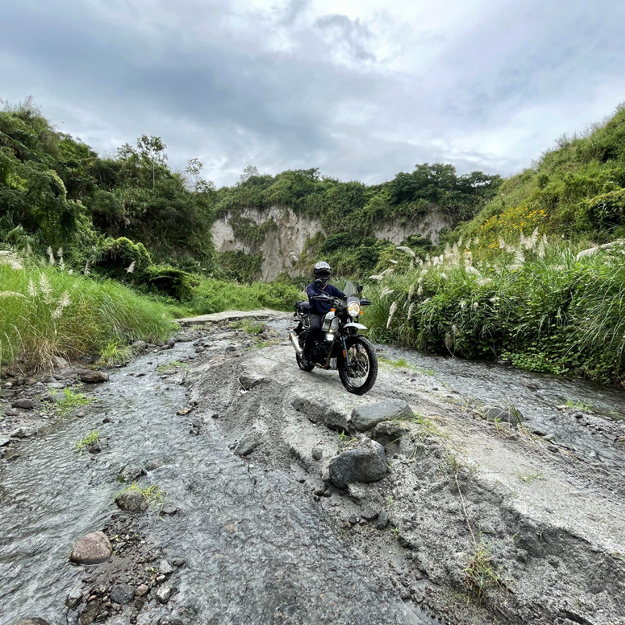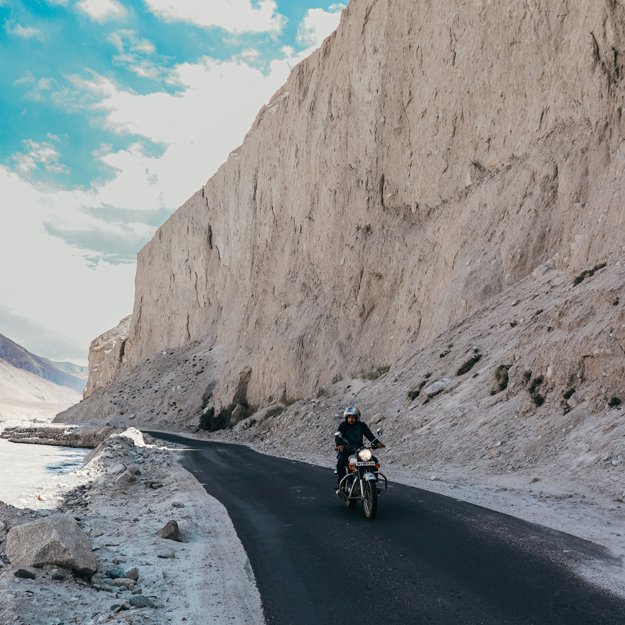 Manali-Spiti Bike Trip
8 Nights / 9 Days
Manali, Rohtang Pass, Chandertal Lake, Kunzam Pass, Kibber, Ki, Gungri, Dhankar, Tabo, Nako, Kalpa, Sangla Valley, Sarahan, Narkanda, Shimla
8 Nights / 9 Days
Manali, Rohtang Pass, Chandertal Lake, Kunzam Pass, Kibber, Ki, Gungri, Dhankar, Tabo, Nako, Kalpa, Sangla Valley, Sarahan, Narkanda, Shimla
India's most remote places like Lahaul and Spiti Valley are accessible for 3-4 months for tourist visits. This mainly happens due to heavy snow falls on its high passes. Lahaul & Spiti is a big district having international boundary with Tibet. The mountainous desert valley is located in the north eastern part of Himachal Pradesh in the Himalayas. The valleys, mountains, glaciers, rivers, forests, pastures, gompas (monasteries) and ancient buildings of the former ruling dynasty are the main attraction for every Tourist. The rugged awe-inspiring snow clad mountains are standing invitation to the adventurers. The entire district is full of natural scenery exhorting the tourists and visitors to explore and imbibe its hidden grandeur. The customs, myths, beliefs and conventions of the simple unsophisticated people are the unique features of this border highland. Every village or a hamlet has a prayer flag fluttering over the Buddhist monastery. These shrines are the centres of the cultural life of the people that have influenced their religious beliefs for centuries and round which their social life revolves.
Spiti Valley is an extraordinary place to explore on Royal Enfield Motorcycle & also Spiti Valley Motorcycle trip is known as an epic riding through rapidly changing scenery, geography, gurgling rivers, crunchy apples, breathtaking view & in last Spiti Valley turns the rider into a storyteller after the motorcycle trip. Spiti Valley Motorbike Expeditions is an excellent way to discover the lesser known Valleys of Himachal Pradesh. A 09 days/ 08 nights motor bike tour including unlimited fun & challenge to one of the remotest regions of Himachal Pradesh, viz Kinnaur & Spiti valley. It involves visiting remote valleys, villages and Crossing Over High Mountain passes Rohtang Pass (3980 m) & Kunzum Pass (4550 m) providing spectacular views of picturesque snow capped peaks, rugged terrain and old monasteries. The tour ends in Shimla which was once the capital of India during the British era. Come prepared for every possible weather imaginable from scorching sunshine to freezing blizzards, even in mid-summers.
Royal Enfield Motorbike tour through the highest mountain ranges and the deep valleys to experience the most thrilling and adventurous experience, which is quite awe inspiring. In this trip you will explore destinations like Manali, Chandertaal Kaza Kibber, Spiti Tabo, Nako, Kalpa, Kinnaur, Sangla and Shimla. Riders will definitely experience serenity while travelling through the serene passes of the valley. Spiti Valley is renowned for its deadliest road that can be viewed when travelling through Shimla route. If you have a love for adventure, a heart that beats faster in the face of awe-inspiring natural beauty and the nerve needed to challenge yourself as you soar around high altitude passes, then this is the adventure for you.
Tour Itinerary
Manali/ Chatru / Chandertal (116 kms/ 7 hrs)
On your Royal Enfield bikes we start our journey up to Rohtang Pass (3980 m) and then meandering our way down to Gramphu. From here we ride along the Chandra River. From Gramphu to Chandertaal Lake is a dirt road but very scenic providing views of Bara Shigri Glacier and CB ranges. On arrival check in at camp at base of Chandertaal Lake. Overnight at camp.
Chandertaal / Kaza (170 kms/ 6-7 hrs)
Early morning by walk (1 hrs one way) to visit Chandertaal (The moon lake – 4270 m) which is of exquisite beauty between a lower ridge and the main Kunzum range, the outlet being into Chandra River. Enjoy the charming scenery and ride your Royal Enfield bikes climbing over Kunzum Pass (4558 m) and passing some beautiful villages of Spiti valley. On arrival in Kaza check in at hotel. Overnight at hotel.
In Kaza
Morning visit the Ki monastery, 12 kms from Kaza. These centuries – old gompa is a labyrinth of rooms and corridors – and at one time also acted as a fort. It houses valuable Thangkas and offers a panoramic view of the area. Also visit the small gompa at Kibber, 9 kms further ahead. Kibber at 4205 m has the distinction of being the highest permanently inhabited village of the region. Ride back to Kaza and evening free to explore the town. Overnight at hotel.
Kaza/ Pin Valley/ Dhankar (60 kms/ full day)
An excursion visiting Pin Valley, the land of Ibex and Snow Leopards. Here we also visit Gungri Monastery. After the visit we continue our ride to visit the old monastery at Lalung village and then continue to Dhankar village & monastery. This Monastery at Dhankar rests high over the valley and is a stupendous example of local architecture. It is regarded to have once been a fort and was also the residence of the ruler of Spiti the Nano. Overnight at Guest House in Dhankar.
Dhankar/ Tabo/ Nako (90 kms/ 3-4 hrs)
Morning ride to Tabo and explore the village. Tabo monastery was founded in 996 AD by the great teacher Richensang-po, Tabo is renowned for its breathtaking murals and stucco images – and is often called "The Ajanta of the Himalayas". The largest monastic complex in Spiti, the old section has 9 temples, 23 chortens, a monks chamber and a nuns chamber. There are several caves adorned with frescoes and contemporary structures too. In trans Himalayan Buddhism, Tabo's sanctity is next only to Tibet's Tholing gompa. Afternoon continue your journey to Nako. On arrival at Nako, a beautiful village located by the banks of lake, check in at camp. Overnight in camp at Nako.
Nako/ Kalpa (125 kms/ 6 hrs)
Early morning visit the village, the Buddhist temples with stucco images and murals and a rock where a footprint like impression is ascribed to Padmasambhava. Later we bike from Nako to Kalpa enrooted visiting confluence of Satluj & Spiti rivers at Khab. Kalpa village is located in backdrop of Kinner Kailash mountain range. On arrival check in at hotel. Rest of day free to explore Kalpa village. Overnight at hotel.
Kalpa/ Sangla/ Chitkul/ Sangla (103 kms/ 6 hrs)
Travel by from Kalpa to Sangla enrooted visiting Kamru Fort & village. We continue further Sangla valley to visit the remote village of Chitkul. We ride back to Sangla and check in at camp for overnight stay.
Sangla/ Narkanda (198 kms/ 6-7 hrs)
Travel from Sangla to Narkanda enrooted visiting the famous Bhimakali temple in Sarahan, regarded as one of the Shaktipeeths. Continue ride to Naraknda. On arrival check in at hotel/ camp. Later you have option to ride up till Hatu Peak (3300 m) to enjoy a magnificent view of the region. Overnight at hotel/ camp.
Narkanda/ Shimla (69 kms/ 3-4 hrs)
Travel from Narkanda to Shimla enroute visiting the hill resorts of Kufri. Tour ends in Shimla.
– Motorbike rider full paying INR 85,000/- per person on twin sharing.
– Pillion rider INR 38,000/- per person on twin sharing.
– Single room supplement INR 28,000/- per single on twin sharing cost.
– **Pillion rider cost does not include any transport in jeep/ car and would have to ride the motorcycle only with his / her companion and includes only the accommodation on twin sharing as per plan
– **arrangements for pickup or drop from Delhi/ Chandigarh or accommodation in Manali/ Shimla can be organized at extra costs.
– GST chargeable as extra on all of above rates
(1). Note: The helmet, gloves and other personal equipments may kindly bring your own.
(2). Before starting the tour from Manali, clients will have to make a security deposit of Rs. 4,000 per bike. Once the tour comes to an end, the full amount will be returned to the client at the ending point provided there is no damage to the bike.
(3). This is the itinerary for a tour which we run regularly. It can be altered, and we like to discuss plans with clients and can make suggestions about special places to visit depending on our clients' interests, and available time. The itinerary is planned in such a way that you gain altitude gradually , you get a good and proper time to acclimatise properly while travelling through the Central Himalayas . Every day there is enough free time to make walk / or to relax your own so you could experience the people and culture from much close on the tour.
(4). In case you require accompanying tour escort / local guide with you please tell us and we will be happy to arrange local, knowledgeable guide for your tour, as per your choice.
(5). Please do not hesitate to collect any travel information from us, before working a final tour programme for yourself. We would be glad to provide you all the travel information and hotels details etc. at the time of planning your holidays with us, before you book your tour with Incredible Himachal Holidays. Being local, we can provide you with a wonderful private, personalise, tailor-made holiday tour in India at a cheaper cost than the standard package / group holiday that you might find elsewhere. We believe in delivering the service, more than- promised to our clients.
– Accommodation in mentioned or similar hotels on twin sharing basis. Check in/ out time is 12 noon.
– Full board basis starting with dinner in Sarahan till packed Lunch on departure from Chandertal (breakfast & dinner would be hot and we provide packed lunches during long rides or excursion).
– One back up van (utility or pick up jeep for spare parts / baggage etc.).
– One Enfield Motorcycle per rider and gas charges strictly as per the above itinerary (from day 02 onward as per the tour chosen till day 07), for any extra driving the clients have to pay directly at spot.
– One Motorbike Mechanic for the entire tour.
– Basic spares for the motorcycles (any damage/ change of spares payable as extra directly).
– Accompanied co – coordinator for the entire tour (not riding motorbike).
– Arrival & departure transfers by large car/ tempo.
– Entrances to place of visit (camera fee donot include).
– Presently applicable taxes.
– Any airfare/ train fare, hotel accommodation in Manali / Shimla, any transportation to reach Manali / Shimla, Fuel for Bike, any other meal than mentioned in itinerary, any personal or travel Insurance, tips, gratuities, portage, laundry, telephone calls, table drinks or any other expenses of personal nature, any item not specified under cost inclusions.