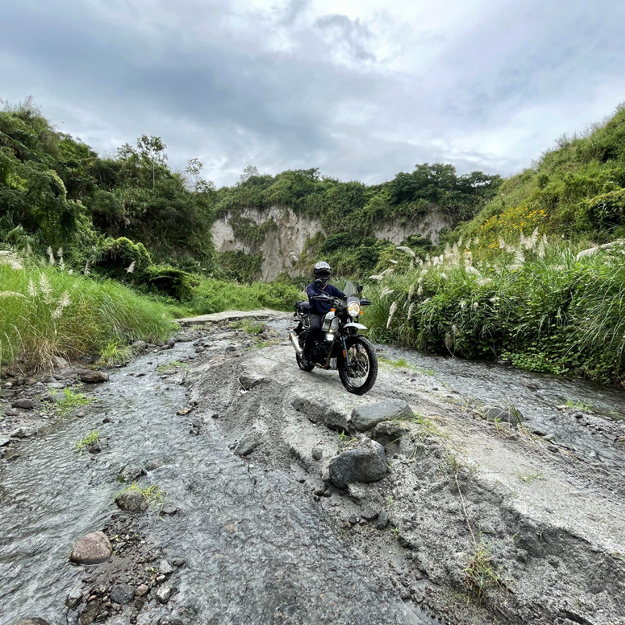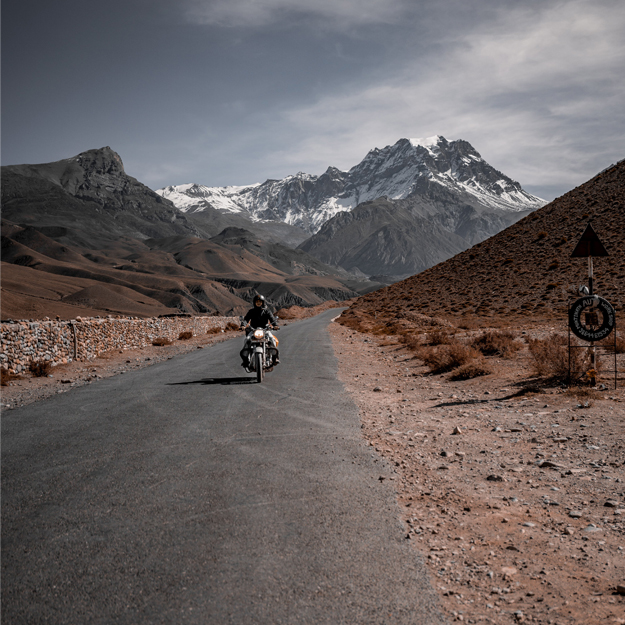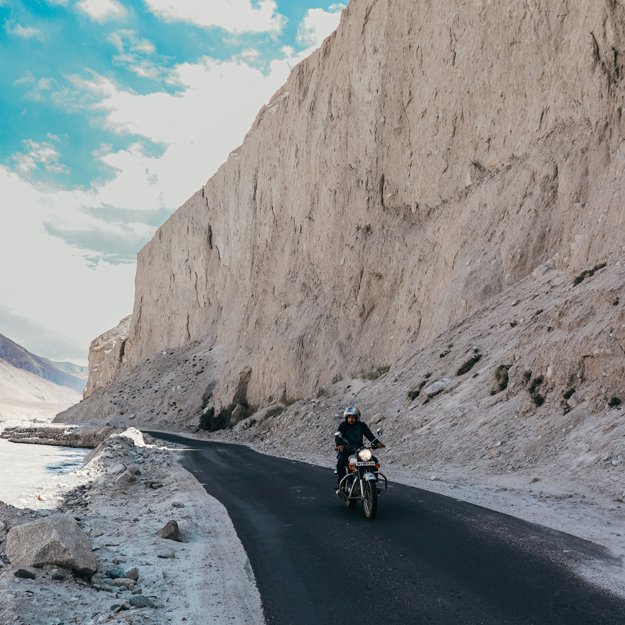 Manali Leh Ladakh Bike Trip
11 Nights / 12 Days
Delhi – Manali – Jispa – Sarchu – Leh – Khardungla – Pangong Lake – Leh – Sarchu – Manali
11 Nights / 12 Days
Delhi – Manali – Jispa – Sarchu – Leh – Khardungla – Pangong Lake – Leh – Sarchu – Manali
Tour Itinerary
Take a break, Fix your bike Get your gears and Set your mind To dive in the Valleys of Paradise.
Leh Ladakh trip on the bike, through the mesmerizing beauty of magical Rohtang pass, the dignified Khardungla Pass and a day at mesmerizing Pangong lake is a dream every rider in India wishes to live at least once in real life. Pack your backpacks for a Manali to Leh Ladakh bike trip, tie them up, get your riding gears and hop onto your motorcycles to commence a journey that would be one of the most memorable journeys you have ever experienced.
Manali to Leh Motorbike Expedition, proceeds through beautiful Solang Valley, to reach Rohtang Pass. The mesmerizing views of majestic snow clad mountains around Rohtang Pass, located at a height of 3978 meters, shall be a treat to your eyes. You ride further ahead to reach Keylong, where a delicious meal of momos and thukpa awaits you. The thrill and adrenaline in your body keep rushing up and up as you gain more and more height on the Leh highway. The trees start disappearing and vast barren lands and rustic mountains takeover the treat as you cross Jispa and Sarchu.
Camp at Sarchu and recharge yourself with exotic food and bonfire stories with fellow travellers before you ride through Pang and Tanglang La Pass. The breathtaking views on the 2nd Highest motorable road of Tanglang-La Pass on your way to Leh city can hypnotize the greatest of travellers. Leh City, at an altitude of 3,524 mts, is often regarded as the most beautiful cold desert city in the country with various attractions ranging from luxurious Leh palace to thrilling Khardung La Pass – one of the highest motorable roads in the world. A day at the famous Pangong lake and a ride through Tso Moriri add a cherry to the cake.
The beauty of Leh Ladakh on a motorbike will enchant your dreams for months to come. Leh Ladakh Motorbike trip will enchant your life for months to come with its magical and ravishing memories. A journey where you ride at your own speed, covering the distance while the cool Himalayan breeze nonchalantly kisses your face as you move swiftly through the snake-laden Himalayan roads on your motorcycles.
Leh Ladakh trip on bike, through marvellous and beautiful Himalayan hills, will add an exceptional and most ravishing page/pages into your travel diary – which you will turn to every day, to recall the thrills, adventures, excitements and everything else – that you will gain through this journey of Manali to Leh on bike.
Departure (Ex Delhi/ Chandigrah Or Buntar Airport)
The journey towards Manali to be made from Delhi via Volvo bus.
Manali local – 20 km
On arrival in Manali, check-in to the hotel, you will find them hospitable and warm it won't take you long to feel right at home. Our team will welcome and brief you about the arrangements. Introduction to motorbikes followed by a tour towards Solang and Leh – Manali highway with a guided motorbike. Overnight stay with dinner at the hotel. Rest in the hotel meet your fellow travellers and enjoy the good night sleep before the real journey begins.
Manali – Jispa – 135 km
Well begun, they say is half done! And surely this is a good beginning as just out of Manali, you start the spectacular 52 km journey to Rohtang pass. As you gain height and reach the bewitching Rohtang pass, being here is literally like feeling on top of the world! The trees will disappear, and vast and lush grasslands will be seen. Pass through the Lahaul valley where there are mountains capped with snow all around. Enjoy mountain dinner of steamed momos and thukpa.
Jispa – Sarchu – 90 km
Upon feasting your eyes to a wonderful sunrise over the mountains, start your bike expedition from where you left off. This part of your excursion will take you through Baralacha pass. From there, head towards Sarchu which forms the borderline between Kashmir and Himachal. From there, reach the Sarchu camp. Relax for the rest of day and keep it high on fluids.
Sarchu – Leh – 250 km
This day we start the longest ride of the trip. Cross the Tanglang-La pass which is the one of the highest motor able mountain pass in the world at the height of 5300 meters. After crossing this pass, you will have to bike through well-maintained roads all the way to Leh. After the Tanglang-La, welcomes us to small villages, green fields and 'julley!' – a greeting in the Ladakh language will add life to the relative straight road to Leh in the borders of Changspa. Spend evening chilling out at the place.
Leh – Khardungla – 100 Km
This morning will involve riding towards one of the world`s highest motor able road- Khardungla pass. There are a number of popular tourist attractions that you may visit, such as Leh Palace, Leh city tour and magnetic hill.
Leh – Pangong – 175k km
Day 7, we would be covering Pangong Tso, which is a saltwater lake and has very low micro-vegetation. Pangong Lake is an endorheic lake in the Himalayas situated at a height of about 4,350 m. It is 134 km long and extends from India to China.
Pangong – Leh – 175 km
Now we are moving toward the nomadic land of Ladakh (Tsomoriri). Riding on the bank of Indus river and crossing the most beautiful valley in Ladakh. The altitude of the Tsomoriri lake is 14,836 ft. It is the largest of the high altitude lakes entirely within India and entirely within Ladakh.
Leh – Sarchu – 250 km
Sarchu, also known as sir bhum chun, closely resembles Ladakh with its barren splendour. Lies on the boundary of Himachal Pradesh and Jammu and Kashmir. En-route, you will see pang, a scenic spot in Ladakh`s landscape.
Sarchu – Manali – 225 Km
This is the final leg of our ritual road trip as we traverse the same challenging route back to Manali. In the morning, drive through the Sarchu plain and reach the Baralaccha plain till noon. Enjoy a smooth ride up the Lahaul ranges and reach Rohtang pass. The route is slightly rough, so this day we shall try and cover the maximum distance with minimum stopovers.
Depart from Manali (Manali to Delhi – Bus)
This is the last day of the adventurous Manali to Leh bike tour.
Morning arrive Delhi
Morning arrival in Delhi – 10 am. End of our services.
(1). Note: The helmet, gloves and other personal equipments may kindly bring your own.
(2). Before starting the tour from Manali, clients will have to make a security deposit of Rs. 4,000 per bike. Once the tour comes to an end, the full amount will be returned to the client at the ending point provided there is no damage to the bike.
(3). This is the itinerary for a tour which we run regularly. It can be altered, and we like to discuss plans with clients and can make suggestions about special places to visit depending on our clients' interests, and available time. The itinerary is planned in such a way that you gain altitude gradually , you get a good and proper time to acclimatise properly while travelling through the Central Himalayas . Every day there is enough free time to make walk / or to relax your own so you could experience the people and culture from much close on the tour.
(4). In case you require accompanying tour escort / local guide with you please tell us and we will be happy to arrange local, knowledgeable guide for your tour, as per your choice.
(4). Please do not hesitate to collect any travel information from us, before working a final tour programme for yourself. We would be glad to provide you all the travel information and hotels details etc. at the time of planning your holidays with us, before you book your tour with Incredible Himachal Holidays. Being local, we can provide you with a wonderful private, personalise, tailor-made holiday tour in India at a cheaper cost than the standard package / group holiday that you might find elsewhere. We believe in delivering the service, more than- promised to our clients.
– All accommodation (from DAY 02 at Manali onwards) (twin/triple sharing basis) in comfortable hotels/guest houses or camps in scenic and offbeat destinations.
– Breakfast and Dinner: Post-induction to the expedition i.e Day 2 Dinner will be included.
– 350cc Classic and Electra Royal Enfield`s for riders (including Fuel).
– Basic First aid kit, Oxygen cylinder and Helmets.
– Team Manager, Road Captain, Support staff and guide.
– Services of a Royal Enfield trained specialist mechanic for the full duration of the trip.
– Luggage racks and bungee cords for strapping on soft luggage.
– Backup Vehicle.
– GST @ 5%.
– Any Air/ bus (Ex- Delhi – Manali) / taxi/ jeep fare.
– Expenses of personal nature like laundry, telephone/ fax calls, mineral water, alcoholic beverages, entrance and camera fee at monuments/ museums, medical expenses, gratuities etc.
– Any kind of insurance, such as accident, theft, medical, evacuation etc.
– Any item, activity or facility other than clearly mentioned within the inclusions and itinerary above.
– Spare parts of any kind. Bike damage etc.
– The cost of motorbike rental (if applicable).
– Any extra costs incurred due to extension/ change of the itinerary due to natural calamities, road blocks, and vehicle breakdown etc. factors beyond their control.