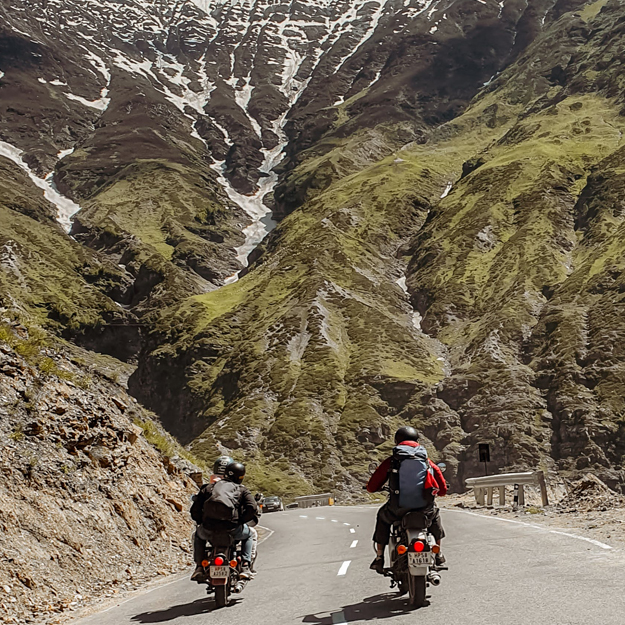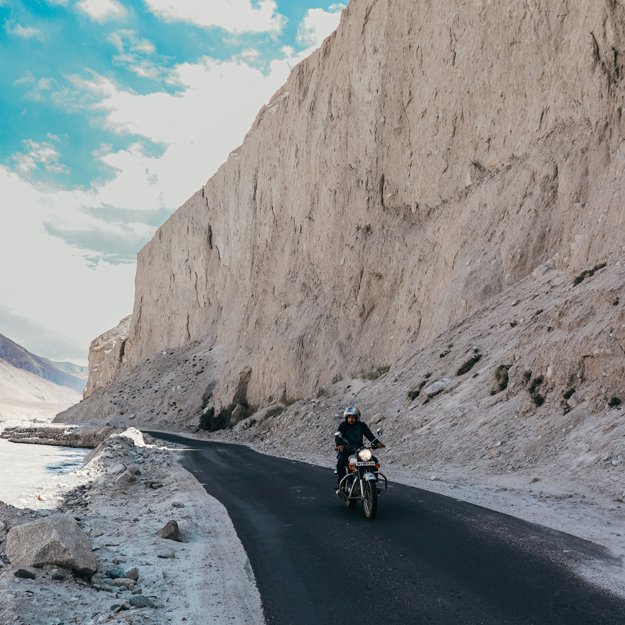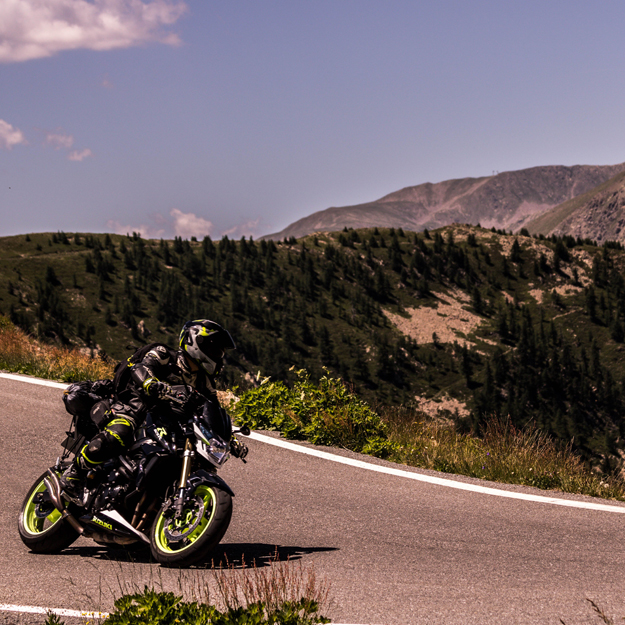 Manali Leh Ladakh Bike Trip (Manali-Leh-Umlingla-Srinagar)
11 Nights / 12 Days
Manali- Rohtangla-Keylong-Jispa-Baralachala- Sarchu–Gata Loops- Nakila- Lachungla-Pang- More plains- TsoKar- Hanle-Umlingla Pass 19300 Ft- Pangong via Shyok route-Nubra
11 Nights / 12 Days
Manali- Rohtangla-Keylong-Jispa-Baralachala- Sarchu–Gata Loops- Nakila- Lachungla-Pang- More plains- TsoKar- Hanle-Umlingla Pass 19300 Ft- Pangong via Shyok route-Nubra
The tour begins at Manali, You can fly to Manali or arrive by ridding own bikes. We ride from Manali to Jispa crossing Rohtang pass. Next day we ride towards Tsokar, through the best stretch of the Manali-Leh highway where you can observe the beautiful scenery while riding. Departing from Tsokar we ride towards Hanle, where you can observe different constellations at night. Next day we head out towards Umling-La pass, which is the World's Highest Motor-able Passs at 19,300 ft. Depending on permission, we can visit this new highest motor able road. Further we ride to The Pangong Lake, about 134 km long is also a treat to visit as it is quite a large lake which extends from India to China and is completely frozen in winter. The view of the sky at night at Pangong is like a dream come true. Next day we hide out to Leh via Khardungla Pass (18380 ft) which is the second highest motor-able road. From Leh we head towards Kargil, we ride in the memory of Indian Army soldiers of who laid their lives fighting the Kargil war (1999). Next morning we leave for Sonmarg. Tour concludes at Sonmarg, you can fly/ ride away to your home destinations with lots of sweet memories and a lifetime experience.
About the Destinations :
Ladakh, the Land of High Passes is one of the most beautiful and coveted holiday destinations in India. It calls to people of all ages to come find themselves in this mesmerizing arid mountain plateau. Home to some of the highest mountain passes in the world, Ladakh has recently been gifted another high mountain pass which is now ranked as world's highest motor able mountain pass, standing about 1000ft higher than the previous owner of that title, Khardung La. Umling near Hanle, Ladakh, stands at a literally breathtaking height of 19,300ft, And the best part is that you will be attempting this feat on a self-drive bike.
About the Trip :
This trip takes you from Srinagar in Kashmir, through Kargil, Leh and finally on the highest motor able road of the world, Umling La at a whopping 19,300ft above sea level. This bike trip through some of the most amazing roads in the world will leave you mesmerized by the sights that you will encounter- Mountains, waterfalls, and valleys. Ladakh is a land of High Passes Ladakh has been described as 'moon land', 'magic land', and 'mysterious land' for its unique landscape. Ladakh is country's coldest, highest and the driest zone. Ladakh has a cool and generally dry mountain climate.
Tour Itinerary
Departure From Delhi By Volvo
Over Night Journey from Delhi to Manali by Volvo (Tickets will be provided by us). We board the awaiting Volvo coaches and take an overnight journey to Manali.
Manali
Arrive at Manali enjoy a traditional welcome followed by introduction with the Tour leader. Rooms will be allotted which will be followed by a safety & rescue session by a professional. In the evening, enjoy the campfire, followed by a tour briefing and some flagship celebrations and dinner.
Manali To Jispa 7 Hour Drive
Wake up early in the morning. After breakfast, bikes will be allotted. Get ready to ride on the world's highest Motor able road : The Manali – Leh highway. As soon as you leave Manali, the climb for the 13,051 feet high Rohtang Pass starts. After Rohtang, the road descends into the Chandra valley, passing through Khoksar and then to Jispa.
Jispa To Tsokar 8 To 9 Hour Drive
Today you ride from the lush green landscape to the stark moonscape which Ladakh is famous for. A very scenic -passing through small lakes, waterfalls and streams. It is undoubtedly the best stretch on the Manali- Leh highway. This section of the Manali-Leh highway will feel as if you're on a roller coaster ride climbing up and down from one Himalayan pass to another. On this day you will ride through three high altitude passes – Baralacha la, Lachlung La (16,616 feet) and Nakee La (15,547 feet).
TsoKar to Hanle 5 to 6 Hour Ride 145 KM.
After breakfast, we start our ride towards Hanle, one of the restricted areas in ladakh and only domestic tourist can visit with permits. We follow this route till Loma Bridge and then take right towards Hanle then will have stay in Guest House. This Day is going to be very adventurous and you will be witnessing the Galaxy from your Naked eyes in the dark Night.
Hanle To Umling-La Pass ( World Highest Motorable pass 19300ft)
This Day is very important for us. After breakfast, we will start our ride early morning 5:30 AM towards Umlingla (19300ft) which is a newly opened pass in Ladakh and we can proudly say that it is the highest Motor able pass in the world (Umlingla Pass is more than 1000ft above Khardungla). Journey through this pass is very tough in terms of terrain and oxygen is very less. We need to drive for more than 2 Hour above 18000 Ft. After reaching Umlingla we have to come back from the same route ASAP towards Hanle. Overnight in Guest House (Hotel is Not available on this Location)
Hanle to Pangong (6 to 7 hours Drive)
After Early Breakfast, we will start our ride towards Pangong lake. In between we have to cross chushul and merak village (the village has recently been opened for domestic tourist) Then we have a ride along the lake. Overnight stay in Camp at Pangong Tso.
Pangong Tso To Nubra (6 to 7 hours Drive)
Today we will be taking one of the most uncommon routes in Ladakh area via Shayok village, which was opened recently for the tourists. While riding you will enjoy the scenery & view of mountains and road. You will also find multiple waterfalls on this route.
Nubra to Leh Via Khardungla pass 6 Hour Drive (Titled Highest Motorable pass 18380 ft)
Today, you take the road to the second highest motor able pass in the world–Khardung-La– at 18,380 feet. In spite of the altitude, today you will ride on some of the smoothest roads so far and the landscape also becomes grand. After conquering Khardung-La pass, you descend into the dramatically different landscape of the Leh City.
Leh To Kargil (7 Hours Journey)
After Breakfast leave for Kargil en-route visit Magnetic Hill, Pathar Singh Sahib Gurudwara and Hall of Fame museum and giant living Buddha sculpture on rock Mountain and enjoy the view of Moon Landscape. Over Night stay in Kargil.
Kargil to Sonmarg 5 to 6 Hour Journey
After breakfast, leave for Sonmarg by crossing famous Zojila pass, Drass Village (2nd Coldest inhibited place in the World). We will visit Kargil war Famous Peaks (Tiger, Tololing) from Vijay war memorial hall site. Reach Sonmarg by evening. Overnight stay at Sonmarg.
Departure
Check out from the stay in Sonmarg and proceed towards Srinagar in a Tempo Traveller
– The sequence of the day-wise tour program may Change depending upon traffic schedules /restrictions on some roads and other unforeseen travel-related conditions.
– If there is an unprecedented hike in the cost of transport (including fuel surcharge) or accommodation it will also affect the cost.
– We shall not be responsible for any change in the itinerary due to landslides, flight cancellations, weather conditions or any unforeseen circumstances. The additional cost incurred will be in addition to the cost.
– Only Bag pack is allowed. you can carry only 10 Kg Luggage with you (PP) Extra Luggage will cost you 1500 Per KG.
– For Foreign National Tourist Permit Charges would be INR 1000/= extra.
– ID Proof.
– Good U/V Protected Sun Glasses.
– Sun Cap.
– Sun Creams Lotion.
– Personal Flash Torch.
– Comfortable warm Clothing / No Formals.
– Personal Medicines.
– In case of cancellation for the group from organizer side due to any unavoidable circumstances, we will try to transfer the booking in other departure (if client denies opting for transfer of booking to another group then there will be no refund). Else we will refund 100% amount deposited.
– In case of cancellation from client side after the registration at any point in time, then, in that case, there will be no refund.
(1). Note: The helmet, gloves and other personal equipments may kindly bring your own.
(2). Before starting the tour from Manali, clients will have to make a security deposit of Rs. 4,000 per bike. Once the tour comes to an end, the full amount will be returned to the client at the ending point provided there is no damage to the bike.
(3). This is the itinerary for a tour which we run regularly. It can be altered, and we like to discuss plans with clients and can make suggestions about special places to visit depending on our clients' interests, and available time. The itinerary is planned in such a way that you gain altitude gradually , you get a good and proper time to acclimatise properly while travelling through the Central Himalayas . Every day there is enough free time to make walk / or to relax your own so you could experience the people and culture from much close on the tour.
(4). In case you require accompanying tour escort / local guide with you please tell us and we will be happy to arrange local, knowledgeable guide for your tour, as per your choice.
(5). Please do not hesitate to collect any travel information from us, before working a final tour programme for yourself. We would be glad to provide you all the travel information and hotels details etc. at the time of planning your holidays with us, before you book your tour with Incredible Himachal Holidays. Being local, we can provide you with a wonderful private, personalise, tailor-made holiday tour in India at a cheaper cost than the standard package / group holiday that you might find elsewhere. We believe in delivering the service, more than- promised to our clients.
– Accommodation on Double/Triple sharing basis as per itinerary in hotels/camps mentioned or similar (Double rooms only for couples).
– Daily Breakfast and Dinner.
– Royal Enfield bike 500 CC including Petrol only use for As per the itinerary ( for Bike package only Exp. one bike one rider and one bike 2 rider).
– Dedicated tour Guide and Group leaders.
– Back up and mechanics.
– Delhi to Manali Transfer By Volvo.
– An Oxygen Cylinder 24X7 in the car in case of emergency.
– All drives, sightseeing and excursions as per the itinerary using SMB Or Traveller.
– Maruti Gypsy 4*4 In Self Drive package only available in 2 seats and 4 seats.
– All tax Included.
– Any Travel expense to Delhi and Back.
– Any personal expenses like laundry, telephone bills, tips etc.
– Any cost arising due to natural calamities like landslides, roadblocks etc. (to be borne by the client directly on the spot).
– Tip to driver and tour escort person.
– Any other item which is not specified under cost inclusions.
– All applicable taxes.
– Petrol Not Include In Maruti Gypsy Package.
– Any entrance fee to the monastery and monuments.
– Permit Cost for Hanle cost 600 PP.
– Travel Insurance.