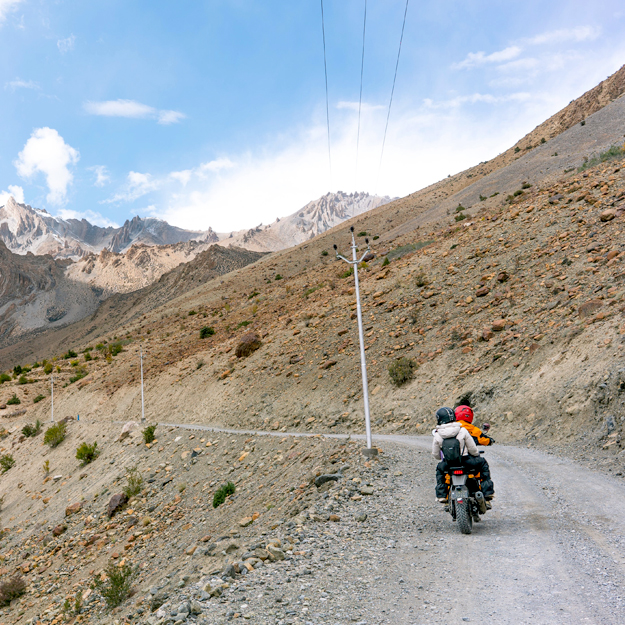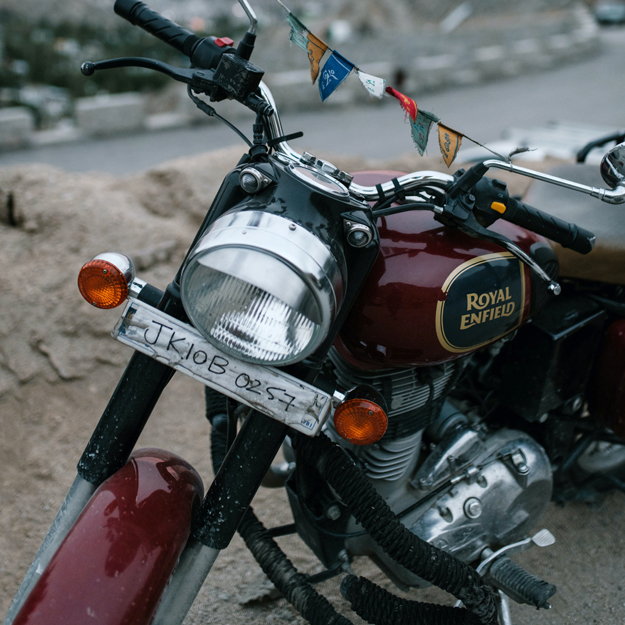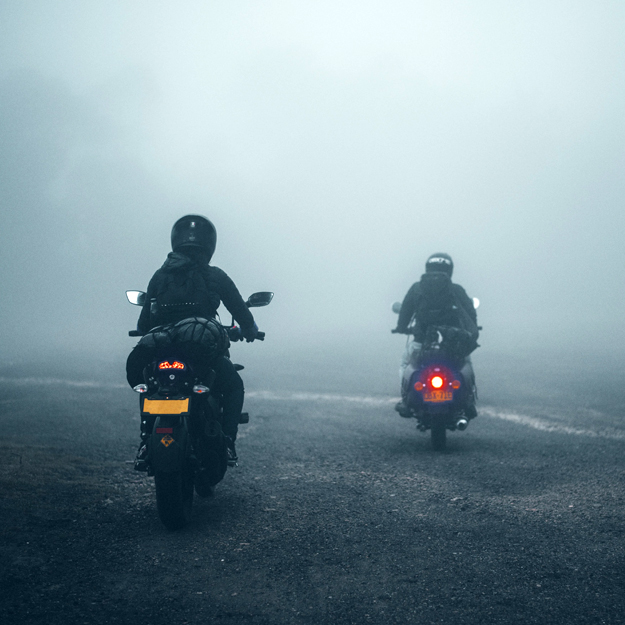 Manali To Leh Bike Groups Tour From Delhi
11 Nights / 12 Days
Delhi to Manali – Manali to Sarchu – Sarchu to Leh – Leh to Nubra valley – Nubra to Pangong Tso – Leh to Kargil – Kargil to Srinagar – Srinagar to Pathankot
11 Nights / 12 Days
Delhi to Manali – Manali to Sarchu – Sarchu to Leh – Leh to Nubra valley – Nubra to Pangong Tso – Leh to Kargil – Kargil to Srinagar – Srinagar to Pathankot
A motorbike expedition is one of the most thrilling ways to explore any region at your own pace, while feeling the wind in your face, experiencing the local life and culture. Join us on an exciting bike expedition to Ladakh along the enchanting roads of northern India. Journey through hilly terrains and gushing rivers ride on treacherous regions and conquer the highest motor able passes – this is the ultimate biking adventure you have been waiting for all your life.
Ladakh Motorbike Expedition starts in Delhi. You ride along flourishing green fields while enjoying the refreshing breeze and head towards the picturesque surroundings of Patnitop, crossing Pathankot and Jammu. As you reach Kargil and stop by the War Memorial in Drass – the second coldest region inhabited by humans, you are filled with an undying sense of patriotism. You further explore the road to Lamayuru Monastery and stop by the Leh Palace taking in the breathtaking views of the Stok Kangri and Ladakh mountain ranges along the way. Find yourself mystified by the Magnetic Hill in Ladakh and have a moment of peace and tranquillity at the Shanti Stupa – it is an experience of a lifetime.
Ride through world's highest motor-able pass called Khardung La at 18,490 feet and enjoy a date with your bike at the 'Highway to Hell' also known as Tanglang La, the second highest motor-able pass in the world. Drive on with the dramatic terrain rushing out to you and the biting cold air on your face as you head towards Pangong Lake. Ride out to Nubra Valley only to be greeted by bewitching cold mountains, aggressive slopes and dazzling dunes.
This Ladakh Motorbike Expedition promises to be one like none other. Added to this, are our well-experienced tour managers, who ensure that you have a seamless journey, with the best of accommodation, routes and safety.
Tour Itinerary
New Delhi to Manali (11 Hours | 540kms)
Begin this adrenaline filled ride in the early hours of the morning at India Gate. Attend a quick briefing session and meet your fellow riders before you commence riding on Delhi roads leading you to Manali.
Manali to Manali (Local Sightseeing)
Today you will spend the day taking in the picturesque locales of Manali and enjoying the night stay here.
Manali to Sarchu (5-6 Hours | 230kms)
Rise to a marvellous morning in Manali and begin your ride to Sarchu. Your destination lies at the borderline of Jammu & Kashmir and Himachal Pradesh and is a thorough look alike of Ladakh with its stark and barren grandeur. Halt for the night here.
Sarchu to Leh (5-6 Hours| 260 KMS)
Now that we have begun our tryst with Ladakh, today we hit the Leh-Manali Highway and ride along bumpy roads and tragic passes this journey also has an encounter with the second highest motor able road Tanglang La, which is also known as the 'Highway to Hell'. The slippery roads here make riding on this terrain extremely tricky and demand super alertness from riders. As the day of tedious yet magical riding comes to an end, take a halt at Leh for the night.
Leh to Leh (Local Sightseeing)
Replenish your energies with a healthy breakfast and enjoy your rest day at Leh. The first half of the day is saved for a regular check-up of the bike and gears. Thereafter, spend your day sightseeing. Stop by the Leh Palace and enjoy the splendid panoramic views of the Stok Kangri and Ladakh mountain ranges from the terrace and explore the museum exhibiting artefacts close to 450 years old. Later head to the Shanti Stupa perched upon the hilltop in the Changspa region. Constructed to endorse world peace and to celebrate 2500 years of Buddhism, this monument is known to hold the relics of the Buddha at its base, enshrined by the 14th Dalai Lama himself. The evening is saved for exploring the colourful markets of Leh and getting insights into the lives of the warm, local people here.
Leh to Nubra valley
Wake up to a stunning morning in Leh and be enchanted by the morning sights before you embark upon your journey to the beautiful Nubra valley. On your way touch base at the world's highest motor able pass called Khardung La at 18,490 feet – the ultimate biker's experience. All the expertise of your biking experience will be called upon as you ride on roads made of gravel and dirt – making it an exceptional biking adventure.
As you arrive at Nubra, you will be greeted by a cold mountain desert and be mesmerized by the brash slopes and the gorgeous dunes the image will be imprinted in your mind forever. Nightfall brings with it an opportunity to camp in the Nubra Valley.
Nubra to Pangong Tso (6-7 Hours | 206kms)
Gear up for the adventure this day holds for you, it is for sure going to blow your mind. Instead of simply returning to Leh, you will now head to the Pangong Tso lake. This road provides for the actual thrill of riding in Ladakh. If off-roading and river crossing were on your biking adventure list, this day accommodates everything.
From the very first glimpse of it, Pangong Lake is known to leave a lasting impression on visitors. Take the narrow stretch of land that leads you directly to the lake and be greeted by a huge mass of water that stretches over a 100 km and extends from India to China. Click memorable pictures with the deep azure water or just stand there mesmerized by the lake's beauty – the experience is nothing short of exceptional. Overnight stay at Pangong.
Pangong Tso to Leh (4-5 Hours | 140kms)
Take in the breathtaking views of the Pangong lake before you begin your return journey to Leh. Upon reaching Leh, get some rest. Overnight stay at Leh.
Leh to Kargil (4-5 Hours | 150kms)
Start the day in Leh and just about within 30km, stop by the famous 'Magnetic Hill' and experience the natural phenomena of the region. Admire the beauty around you and be awestruck by the view of the confluence of the Zanskar and Indus River – the experience is breath-taking. Heading to Kargil, take a quick pit stop at the Lamayuru Monastery, which is home to over 150 monks and exhibits an elaborate collection of thangas, wall paintings, statues and artefacts among others.
Proceed towards Kargil, which is your final destination for the day. Stop by the War Memorial at Drass at the foothills of the Tololing Hill. This memorial was built in tribute to soldiers of the Indian Army who lost their lives during the Kargil war with Pakistan. Overnight stay at Kargil.
Kargil to Srinagar ( 5-6 hours | 250kms)
Awake to a beautiful morning in Kargil and relish a delicious breakfast before you begin the exciting journey that lies ahead. As you take the path away from Kargil a sudden change of scenery awaits you. You leave behind the lush green valleys and welcome the brown barren mountains.
Ride through lush green meadows and make your way through the Sonmarg Pass. Get your adrenaline pumping as you ride through one of the highest motorable passes in the world called Zoji La and head towards Srinagar. A striking view of the snow clad mountains, streets lined with maple trees, the renowned Dal Lake and its charm makes Srinagar nothing short of bliss on earth. Explore the gardens and enjoy a Shikara boat ride – the place is divine. Overnight stay at Srinagar.
Srinagar to Pathankot (7-8 hours | 370kms)
Begin with a nutritious breakfast you have a day filled with adventure awaiting you. The destination for today will be reached by driving through plentiful fields and small villages and making your way to Pathankot. Stay overnight at Pathankot.
Pathankot to Delhi (7-8 hours | 479kms)
This day effectively marks the end of the trip. Ride back from Pathankot to Delhi.
– Minimum age 20 years.
– Security deposit options.
– (a) Zero cash deposit – Deposit one post-dated cheque+ deposit Original Pass.
– (b) Rs. 2000 Cash – Deposit one post-dated cheque + deposit aadhar card/voter ID card original + copy of licence
– (c) Rs. 4000 cash- deposit Original Passport + copy of licenceTour Guide cum Trip Leader during the tour.
– (d) Rs. 8000 cash- deposit aadhar card/voter ID card original + copy of licence.
– If local associations in Leh do not allow outside bikes to go beyond Leh then one has to hire a bike from Leh for 4 days at least, on one's own and that cost is not included in this package. With mutual understanding, two guests can hire one bike and they can share the bike rental & fuel charges so they can save money.
– Transportation Facilities: If anyone wishes to join us by our transportation vehicles, additional 12000 per person will be applicable.
– Passport size photographs
– Original Photo ID (voter card or passport)
– Driving Licence
– If bringing your own bike, all documents related to your bike should be submitted along with insurance papers
(1). Note: The helmet, gloves and other personal equipments may kindly bring your own.
(2). Before starting the tour from Manali, clients will have to make a security deposit of Rs. 4,000 per bike. Once the tour comes to an end, the full amount will be returned to the client at the ending point provided there is no damage to the bike.
(3). This is the itinerary for a tour which we run regularly. It can be altered, and we like to discuss plans with clients and can make suggestions about special places to visit depending on our clients' interests, and available time. The itinerary is planned in such a way that you gain altitude gradually , you get a good and proper time to acclimatise properly while travelling through the Central Himalayas . Every day there is enough free time to make walk / or to relax your own so you could experience the people and culture from much close on the tour.
(4). In case you require accompanying tour escort / local guide with you please tell us and we will be happy to arrange local, knowledgeable guide for your tour, as per your choice.
(5). Please do not hesitate to collect any travel information from us, before working a final tour programme for yourself. We would be glad to provide you all the travel information and hotels details etc. at the time of planning your holidays with us, before you book your tour with Incredible Himachal Holidays. Being local, we can provide you with a wonderful private, personalise, tailor-made holiday tour in India at a cheaper cost than the standard package / group holiday that you might find elsewhere. We believe in delivering the service, more than- promised to our clients.
– Welcome drinks on arrival.
– Accommodation in well appointed 3 star or equivalent hotels as per city on Triple sharing Basis.
– All meals throughout the stay on MAPAI basis- Breakfast & Dinner.
– Support back up vehicle, for emergency use and luggage transfer in emergency.
– One bike mechanic throughout the biking tour with spare parts (Spare parts are chargeable).
– All Inner line permits wherever required.
– Theme Dinner with bonfire at Leh.
– One party night during the trip.
– Basic First aid kit and Oxygen Cylinders in emergency.
– T-shirt/ highlighter specially designed.(Please send your size).
– Stickers for Bike & Helmet.
– Any major service expenses.
– Fuel for bike.
– Any kind of Insurance/Medical.
– All entry tickets for stupas, monasteries, sightseeing, state and entry fees.
– Fees for camel ride or ATV ride.
– Any Air/Bus/Taxi/Jeep fare.
– Lunch throughout the tour.
– Ladakh Autonomous Hill Development Council (LAHDC) Leh environment fees & red cross fees.
– Any personal expences like room service, donation, tips, drinks, bar & beverage, mineral water, laundry and telephone.
– All items/services not specially mentioned in the inclusion.
– No bill will be reimbursed against any missed service/facility.
– Any part of package is not availed by the client; refunds cannot be claimed for any part of package exchangeable with any services.
– In case of extension of a tour is required, supplements as applicable would be paid directly to us by the clients.
– Govt. Service Tax as per actual would be charged on the package cost.