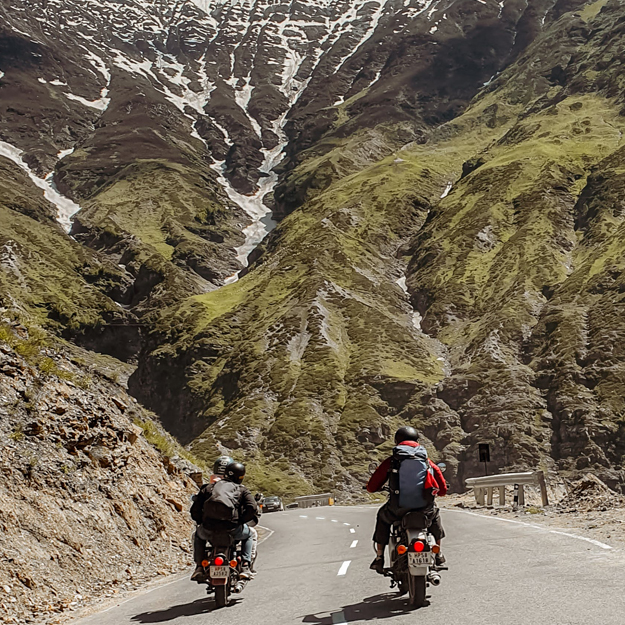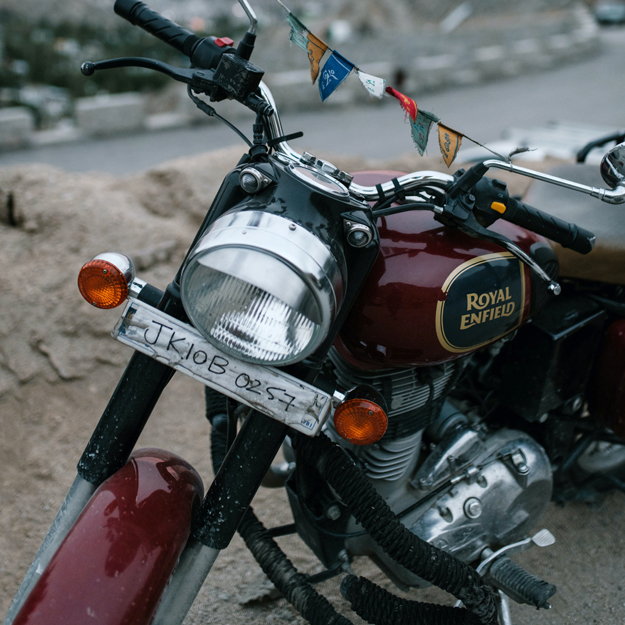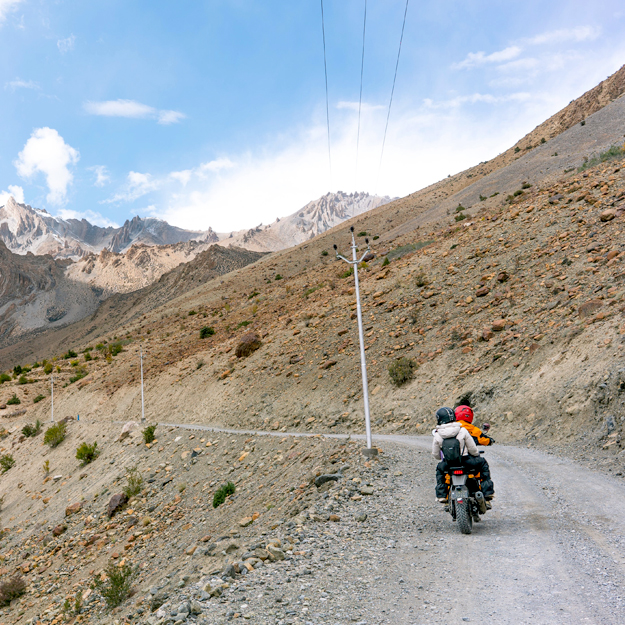 Ladakh Bike Trip from Delhi
11 Night / 12 Day
Delhi to Pathankot – Patnitop to Srinagar – Kargil to Leh – Pangong Lake to Nubra via Shyok – Leh to Sarchu – Manali – Delhi

11 Night / 12 Day
Delhi to Pathankot – Patnitop to Srinagar – Kargil to Leh – Pangong Lake to Nubra via Shyok – Leh to Sarchu – Manali – Delhi
About Ladakh Bike trip from Delhi via Srinagar Leh Manali
When you think of Ladakh you think of rugged terrains, high passes, beautiful valleys, snow clad peak in the horizon and lot more fascinating natural elements. It challenges the mettle and tenacity of the traveler as you come across some toughest Himalayan road. And a bike trip to Ladakh gives you all the above at its best. So, if you are a Biker its your time for this fury road.
Ladakh Biking Expedition is a dream of every Biker. A ride of a lifetime, ladakh bike trip can introduce you to torquiose blue water, pristine sapphire lakes, rugged terrain. The first leg of trip starts from Delhi and the road continues through Srinagar, Sonmarg, Kargil, Lamayuru to Leh. and then second leg we cover Pangong, Nubra, Sarchu, Leh- Manali highway. Ladakh biking season is predominantly from June to September as from Ocober onwards temperature starts plunging in the 'Roof of the world'. it becomes very difficult to go for Biking expedition to Ladakh in November, December and January.
Leh Ladakh road trip via bike is always an experience unmatched with any other. The never ending long stretching road to Horizon and guarding sky kissing peaks in both side makes the ladakh bike trip so special that travelers across the world flock for Leh Ladakh biking trip. And obviously the journey becomes best when you make it your 'Royal Enfield ladakh bike trip'. Royal enfields are most suitable in this rugged biking trip for their rugged and tough body. Generally any bike above 150cc is good to go. If you want accessories for Ladakh biking trip or other Ladakh biking gears, gloves etc. they are easily beavailable in any bike accessories shop.
Tour Itinerary
Meet at Delhi
Get together and Briefing at New Delhi the day before starting the trip. Arrange your accommodation for this day on your own. Day 0 is 1 day earlier to your start date.
Delhi to Pathankot
We will start the trip from India Gate New Delhi to Pathankot at wee hours via Karnal (breakfast), Chandigarh (quick break), Ludhiana (lunch), Jalandhar and Dasuya.
Pathankot to Patnitop / Batote
Hit the road from Pathankot to Patnitop riding through the green and mesmerizing hilly landscape while entering in Himalayas.
Patnitop to Srinagar
Heading towards the heaven of India where we will get the opportunity to enjoy shikara ride in world famous Dal Lake and stay overnight in the lap of mighty nature of Srinagar. And will feel the beauty of Kashmir valley.
Srinagar to Kargil
Now this is the day when we have to see, feel and enjoy the beauty of Sonamarg (Golden Cock) and just after that we have to face the actual adventurous ride of dangerous and one of the toughest pass of the world Zojila Pass and at the end of the day will be the witness of symbol of Indian victory (kargil war memorial- Drass) over the pak in 1999. As per sign board we will also cross the one of the most coldest inhabited place in the world (Drass).
Kargil to Leh
This is the day when we will welcomed by the Juley instead of Namastey or Good time. As after the feel of Kashmir valley we are going to enter in Ladakh region. This day we will also cross the highest pass of Srinagar Leh highway. Will feel the magical effect of Magnetic hill, enjoy the beauty of confluence of Zanskar and Indus River. Also have to opportunity to get blessed at Gurudwara Sri Pathar Sahib constructed and maintained by Indian Army.
Rest day at Leh (Bike checks/ gear up)
After breakfast, check and gear up the bikes as necessary and get ready for the adventure that is to follow and set out for local sightseeing, exploring Leh and the neighboring attractions, visiting Shanti Stupa, Jama Masjid, Leh Palace, and the Hall of Fame. In the later part of the day.
Leh to Pangong Tso Lake via Chang la
Gear up and speed off on the smooth tarmac to meet the Pangong Lake, mighty Chang La (17586 ft.) – the 3rd highest motorable pass in the world, and Monasteries like Hemis, Shey, Thiksey etc.
Pangong Lake to Nubra via Shyok
Pangong Tso to Leh. Gear up and speed off on the smooth tarmac to meet the Pangong Lake, mighty Chang La (17586 ft.) – the 3rd highest motorable pass in the world, and Monasteries like Hemis, Shey, Thiksey etc.
Leh to Nubra Valley (Via across Khardung La)
Ride up the dream of every rider Khardung La (18380 ft) – the highest motorable pass in the world, the most challenging yet the most fascinating of all passes, and then, reach the picturesque Nubra Valley and will spend night in the lap of beautiful Nubra valley.
Leh to Sarchu
Today get ready to ride up a humpy & bumpy road to the mighty Tanglang La (17582 ft) – the 2nd highest motorable pass in the world, called by many as the "highway to hell" owing to its super smooth roadway and thus, riding on this road can be tricky demanding high alertness, cautioning the bikers at every turn as the elevation and turns are so sharp.
Sarchu to Manali
At that day have to cross the jam packed Rohtang Pass and will reach Manali after the ride of hell to heaven.
Manali to Delhi (End of trip)
Departure our Leh Ladakh Bike Trip end here.
Please Note :
(1). Note: The helmet, gloves and other personal equipments may kindly bring your own.
(2). Before starting the tour from Manali, clients will have to make a security deposit of Rs. 4,000 per bike. Once the tour comes to an end, the full amount will be returned to the client at the ending point provided there is no damage to the bike.
(3). This is the itinerary for a tour which we run regularly. It can be altered, and we like to discuss plans with clients and can make suggestions about special places to visit depending on our clients' interests, and available time. The itinerary is planned in such a way that you gain altitude gradually , you get a good and proper time to acclimatise properly while travelling through the Central Himalayas . Every day there is enough free time to make walk / or to relax your own so you could experience the people and culture from much close on the tour.
(4). In case you require accompanying tour escort / local guide with you please tell us and we will be happy to arrange local, knowledgeable guide for your tour, as per your choice.
(5). Please do not hesitate to collect any travel information from us, before working a final tour programme for yourself. We would be glad to provide you all the travel information and hotels details etc. at the time of planning your holidays with us, before you book your tour with Incredible Himachal Holidays. Being local, we can provide you with a wonderful private, personalise, tailor-made holiday tour in India at a cheaper cost than the standard package / group holiday that you might find elsewhere. We believe in delivering the service, more than- promised to our clients.
– Accommodation on Triple sharing basis in Hotels and tent.
– Breakfast & Dinner at gourmet eating joints on the way.
– Backup Vehicle.
– Travel Guide.
– Trained Mechanic.
– Oxygen cylinder.
– Necessary Medicines.
– First Aid Kit.
– Mineral Water, Any other beverage with meal or without meal.
– Monument Fees.
– Entry Fees/Parking fees.
– No bill will be reimbursed against any missed service/facility.
– Any Air/Bus/Taxi/Jeep fare.
– Personal expenses like Telephone calls, Faxes, Laundry, Internet browsing, medical expenses, gratuities.
– Fuel Cost, spare parts, Bike repairing.
– Rental charges of bike (If applicable).
– In case of extension of a tour is required, supplements as applicable would be paid directly to us by the clients.
– Any part of package is not availed by the client refunds cannot be claimed for any part of package exchangeable with any services.
– Any kind of insurance.